Choosing the right preschool for your child is a monumental decision. It's about more than just academics; it's about nurturing a love for learning, fostering creativity, and providing an environment where your child can thrive. Our play-based preschool is designed to do just that.
We believe that learning should be an adventure, not a chore. Play is the secret ingredient that sparks curiosity and ignites a passion for exploration. Through hands-on activities and child-initiated play, we inspire children to embrace learning as a joyful journey of discovery.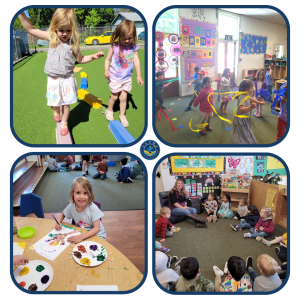 Fostering Creativity and Imagination: Creativity knows no bounds in our play-based environment. From arts and crafts to imaginative role-play, children are encouraged to express themselves freely. By providing them with the tools and space to unleash their imagination, we help them develop the essential skill of thinking outside the box.
Building Social Skills and Emotional Intelligence: Play is a natural way for children to interact, communicate, and form friendships. In our play-based preschool, your child will learn valuable social skills such as sharing, taking turns, and cooperating with others. They'll also explore emotions and develop the emotional intelligence needed to navigate the complexities of human interactions.
A Solid Foundation for Academic Success: Play-based learning isn't just fun; it's also highly effective. Research shows that children engaged in play-based environments develop strong problem-solving skills, critical thinking abilities, and a solid foundation for future academic achievements. Our preschool prepares children not just for school, but for a lifetime of successful learning.
Choosing a play-based preschool is a decision that sets the tone for your child's educational journey. Our play-based approach is more than just a method; it's a philosophy that embraces the power of play as a transformative force. With us, your child will embark on a magical adventure, where learning is joyful, creativity is celebrated, and growth is boundless. Join us in creating a foundation of curiosity, resilience, and joy that will shape your child's future in the most extraordinary way. Discover the enchantment of our play-based preschool today by taking a tour of our sought-after Pleasant Hill Campus.