Childcare is a critical experience for every child. Childcare is a time when the child first leaves the safety and security of their mother and ventures out into the world. Childcare can begin as early as sixteen months, and our effort to provide the best childcare in Danville, Fremont, and Dublin, starts with a deep understanding of the needs of each child. Every child is unique, and we work hard to comprehend the experience of childcare from the child's perspective.
Learn and Play Montessori offers childcare in Danville, California, as well as in Fremont, and Dublin. We're convenient to the 680 corridor, so people often come to us as we are "on their commute" to/from nearby cities like Alamo or Blackhawk, San Ramon or Walnut Creek, or Pleasanton on Diablo. We know that childcare is a big step for the child, and perhaps a more challenging step for the moms and dads.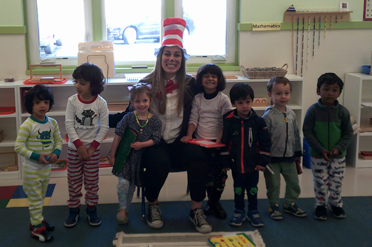 If you're curious about the Montessori method, or just looking for the best childcare in Danville, Fremont, or Dublin, your first step should be a school tour. Contact our helpful staff today for a school tour by appointment or just drop by. We're proud and excited to showcase our childcare program, long considered one of the best Childcare methodologies for burgeoning youngsters.
Even though childcare is typically thought of as just "baby sitting," we beg to differ. Maria Montessori realized that every child from the earliest age was a "lifelong learner" and was hungry to experience the world. For this reason, we work the Montessori method into our childcare program at a pace that works for each child. Nothing is forced; the goal is to instill a "love of learning" at the most fundamental level of the child.
Unlike many Danville, Fremont, or Dublin childcare programs, our Montessori programs set the groundwork for a lifelong learning experience for your child. We work with the child as they begin their journey from your house to the bigger world, helping them grow through a loving childcare methodology to set the groundwork for solid self-esteem and self-confidence.
If that sounds like something you want your child to be involved in, send them to Learn and Play Montessori Childcare!
Why Montessori as the Best Childcare Program for Your Child?
Here at Learn and Play Montessori School, our main goals are based on helping your child improve their cognitive, physical, social, and emotional skills via age-appropriate methodologies. Learning comes differently for many children, so we know the way things are taught shouldn't all be the same. We want to do whatever it takes to help your child prepare for preschool, kindergarten, elementary school, high school, college, and life. If you want them to be prepared too, send them to Learn and Play Montessori School's Childcare! Our goal is to be not only the best childcare program in Danville, Fremont, and/or Dublin but also to be the best program customized to the needs of your child.
City Factoid
We're proud of the history of each of the communities we serve, so here's a factoid on local history.
Danville opened its first post office in 1860, with 20 people living in the town itself, and a few hundred more living in the surrounding area. As the stories of prosperity in California spread, more and more people made their way west, and dozens settled in the new town of Danville. Farmers found fertile land and pleasant weather. The area became a center for cattle, sheep, wheat, barley and onions; fruit and nut orchards were added later. By 1869 the census counted 1,800 in the Danville and Lafayette area
Source: https://danville.com/channel/History-of-Danville/4519