Dublin San Ramon Campus
Daycare (Childcare) | Preschool | Kinder & After School
Explore options for your child and family!
Your child deserves a top-quality program in Dublin, California! Our Montessori-inspired program combines a fun approach to learning that unlocks the passion in every child to want to learn. We emphasize basic learning skills, including STEM (Science, Technology, Engineering, and Math) in age-appropriate ways. From 2 years to 6 years old, your child will love our program and so will you as a parent or guardian.
---
Book a Campus Tour | Contact us via webform | Call 925-248-2200 to learn more!
---
A Top-Rated Program and School in Dublin, California
Our dublin campus offers best-in-class programs for children from 2 years to 6 years old. We combine age-appropriate Montessori methods with a focus on STEM (Science Technology Engineering and Math), so as to encourage a lifelong "passion for learning." Use this page to learn more about our programs, or call us at 925-248-2200 or Schedule a Tour today.
Daycare / Childcare. We accept children as young as 2 years to 6 years old and provide quality daycare in a licensed, loving environment. This helps children grow and mature, and assists busy Bay Area parents who want a secure, safe, and caring environment for their little ones.
Preschool. Preschool is the foundation of success in education. Accordingly, our preschool program combines Montessori methods with STEM (Science, Technology, Engineering, and Math) to set a foundation for the child. Kids love our programs because they are fun; parents love them, because they are effective.
Kindergarten. We are a private kindergarten that offers better hours and higher quality instruction than "free" state programs. The child learns more, and the parents have an easier time due to more flexible and extensive hours.
After School Programs. We also offer "after school" programs for kids in public schools. Call us today to explore costs and options.
Questions and Answers.
Q. What does the program cost?
A. Our programs are affordable, based on the amount of time needed for your child. Use the tabs above to browse costs and rates, or feel free to contact the office for up-to-date rates and tuition. Costs differ as well between daycare/childcare, preschool, kindergarten and after school programs.
Q. How do I enroll my child?
A. The best first step is to call the office and ask any questions. You can also sign up for a school tour, and if you're ready, at that time we can give you the paperwork and forms to fill out. Enrollment is easy, but of course forms are required.
Q. Is this a licensed preschool program?
A. Yes, all our programs meet city and state regulatory requirements. We are a licensed provider, and fulfill all necessary requirements. We go above and beyond the state requirements as needed.
Preschool Childcare Center License #013422409
Q. What is your methodology?
A. We are a "Montessori-inspired" program. This means we take the best of Montessori methodology, allowing the child to lead the learning process and instill a passion for learning. That said, we recognize that the jobs of the future will be in Science, Engineering, Technology, and Math. Thus, we focus on STEM and also incorporate strong language and multiculture aspects to our program.
Methodology. We are a Montessori-inspired program, combining the best of Montessori with a focus on STEM (Science, Technology, Engineering, and Math) to foster a passion for learning. Feel free to set up a school tour or call to speak with a specialist to learn more about our educational system.
Learn More. Use the menu above to book a school tour, explore our calendar, registration forms, tuition and other aspects of our exciting program. Again, feel free to call or contact us for more information.
Address.
Learn & Play Montessori
11900 Silvergate Drive, Dublin, CA 94568
Tel. 925-248-2200
Preschool Childcare Center License #013422409
Fun Factoid about Montessori
Maria Montessori was born on the 31st August 1870 in the town of Chiaravalle, Italy. Her father, Alessandro, was an accountant in the civil service, and her mother, Renilde Stoppani, was well educated and had a passion for reading.
The Montessori family moved to Rome in 1875 and the following year Maria Montessori was enrolled in the local state school. Breaking conventional barriers from the beginning of her education, Maria initially had aspirations to become an engineer.
When Maria Montessori graduated secondary school, she became determined to enter medical school and become a doctor. Despite her parents' encouragement to enter teaching, Maria wanted to study the male dominated field of medicine. After initially being refused, with the endorsement of Pope Leo XIII, Maria Montessori was eventually given entry to the University of Rome in 1890, becoming one of the first women in medical school in Italy. Despite facing many obstacles due to her gender, Maria Montessori qualified as a doctor in July 1896.
Source: https://montessori.org.au/biography-dr-maria-montessori
Fun Factoid about Dublin, California
San Ramon, California, is located in the San Ramon Valley east of San Francisco, in Contra Costa County. The valley was in early times a part of the land of the Seunen Indians. A mission was established in San Jose in the late 1700s, and the missionaries used the valley as grazing land. American settlers started to come to the area in the 1850s to farm.
The village of San Ramon developed quickly once the railway came to town in 1864. It ran from San Ramon through the valley to Oakland. During the 1860s a church was erected, a general store was built, and the San Ramon grammar school opened. A permanent post office was established in 1873.
During the 19th century San Ramon had several names, including Limerick, referring to the many Irish settlers. The arrival of the San Ramon Branch Line of the Southern Pacific Railroad in 1891 finally put an end to that. The name San Ramon comes from the San Ramon Creek that was named after an Indian vaquero known as Ramon. "San" was probably added to the name due to the Spanish influence in the region.
Source: https://www.achp.gov/preserve-america/community/san-ramon-california.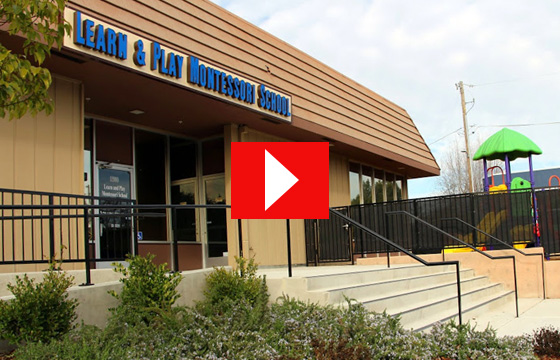 The Dublin Preschool Program uses the Montessori method and provides a safe, nurturing atmosphere, allowing for a child's freedom of movement and learning directed by a child's interest. The attractive material in the classrooms allows the children to explore the world through their senses, through touch and motion, and by engaging with others in the classroom. One main focus of Montessori education (at all levels – preschool, daycare, childcare, and kindergarten) is its hands on approach to learning. Because your child is unique, our program is uniquely designed where children experience play, interaction, exploration, and growth.
For our Dublin Kindergarten Program we strive to support not only academic development, but our Kindergarten children learn to balance freedom and responsibility. Learning this balance is a big part of the child's experience in Kindergarten program. It is our goal to support the ongoing and unfolding development of these children, and in this new model we can easily meet the expectations of the Kindergarten year, but even more importantly, we can deepen their learning and social development which is so critical in making the next transition to an elementary program. In addition to our Montessori program in Dublin / Pleasanton, we provide a developmentally appropriate curriculum which prepares each child emotionally, socially, and cognitively for the first grade.
Highly trained and qualified teachers with accredited Montessori and early childhood education credentials guide students in the Dublin and Pleasanton school on an exciting journey of learning and self-discovery. Our staff provides highest quality standards in early childhood development by providing each child with new challenges, introducing new lessons and then letting the children practice what they have learned. As children grow, teachers expand the classroom material in order to allow the children to further explore.
Childcare Preschool Center License #013422409
Note: while our Montessori school is located in Dublin, California, it is very convenient to San Ramon, Pleasanton, and Livermore as well. Many parents look for one of the best Montessori preschool, daycare, childcare, and/or kindergarten programs in Pleasanton and are pleasantly surprised to find us conveniently located in Dublin. Indeed, with easy freeway access to both 580 and 680, our school is excellent for many commuters who may not live in Dublin or Pleasanton, but are looking for a Montessori preschool or kindergarten program that is easy to get to. For example, we have parents who commute in from Castro Valley, San Ramon, or Livermore.
Welcome to our Dublin Montessori School, which serves families in the tri-city area of Dublin, San Ramon and Pleasanton, California, with Montessori-based programs for childcare, daycare, preschool, and kindergarten. Our Dublin Montessori school is conveniently located with easy access to both Highway 680 and Highway 580 and is off of San Ramon Blvd in Dublin, California. We are located at 11900 Silvergate Drive, Dublin, California. You can reach this campus at 925-248-2200. The campus is open from 7:00AM to 6:30PM.
For More Information Call Us: (925) 248-2200
Email Us: [email protected]
Address: 11900 Silvergate Drive, Dublin, CA 94568