Dublin Montessori: Preschool, Daycare & Childcare
Learn More about our Dublin Montessori Preschool
This spacious and state of the art campus is open to children ages 2 to 6 years of age offers a year-round Montessori preschool program. For this reason, we are considered one of the best preschools in Dublin, California, in general and, of course, with respect to the Montessori method, in particular. This campus offers 5 beautiful classrooms filled with sequenced and high quality Montessori material which allows for endless learning opportunities. This campus was designed with ample amount of space in mind, so that children can freely move around and explore all the Montessori material. Extended windows in each Montessori preschool classroom provide a myriad of natural light to enhance the academic and developmental environment. The playground near the back of the school is fully gated and offers a safe environment for children to play and learn.
Preschool Childcare Center License #013422409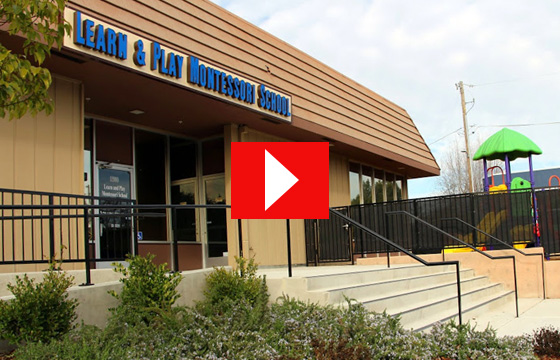 The Dublin Preschool Program uses the Montessori method and provides a safe, nurturing atmosphere, allowing for a child's freedom of movement and learning directed by a child's interest. The attractive material in the classrooms allows the children to explore the world through their senses, through touch and motion, and by engaging with others in the classroom. One main focus of Montessori education (at all levels – preschool, daycare, childcare, and kindergarten) is its hands on approach to learning. Because your child is unique, our program is uniquely designed where children experience play, interaction, exploration, and growth.
For our Dublin Kindergarten Program we strive to support not only academic development, but our Kindergarten children learn to balance freedom and responsibility. Learning this balance is a big part of the child's experience in Kindergarten program. It is our goal to support the ongoing and unfolding development of these children, and in this new model we can easily meet the expectations of the Kindergarten year, but even more importantly, we can deepen their learning and social development which is so critical in making the next transition to an elementary program. In addition to our Montessori program in Dublin / Pleasanton, we provide a developmentally appropriate curriculum which prepares each child emotionally, socially, and cognitively for the first grade.
Highly trained and qualified teachers with accredited Montessori and early childhood education credentials guide students in the Dublin and Pleasanton school on an exciting journey of learning and self-discovery. Our staff provides highest quality standards in early childhood development by providing each child with new challenges, introducing new lessons and then letting the children practice what they have learned. As children grow, teachers expand the classroom material in order to allow the children to further explore.
Childcare Preschool Center License #013422409
Note: while our Montessori school is located in Dublin, California, it is very convenient to San Ramon, Pleasanton, and Livermore as well. Many parents look for one of the best Montessori preschool, daycare, childcare, and/or kindergarten programs in Pleasanton and are pleasantly surprised to find us conveniently located in Dublin. Indeed, with easy freeway access to both 580 and 680, our school is excellent for many commuters who may not live in Dublin or Pleasanton, but are looking for a Montessori preschool or kindergarten program that is easy to get to. For example, we have parents who commute in from Castro Valley, San Ramon, or Livermore.
Welcome to our Dublin Montessori School, which serves families in the tri-city area of Dublin, San Ramon and Pleasanton, California, with Montessori-based programs for childcare, daycare, preschool, and kindergarten. Our Dublin Montessori school is conveniently located with easy access to both Highway 680 and Highway 580 and is off of San Ramon Blvd in Dublin, California. We are located at 11900 Silvergate Drive, Dublin, California. You can reach this campus at 925-248-2200. The campus is open from 7:00AM to 6:30PM.
For More Information Call Us: (925) 248-2200
Email Us: [email protected]
Address: 11900 Silvergate Drive, Dublin, CA 94568