The decision to send your child to a Montessori school is important, and the transition from being at home to attending a Montessori school is a significant milestone for both you and your child. Our Montessori school programs run currently in Fremont, Danville, Dublin, and Milpitas. The Montessori method of education is known for its unique approach to fostering independence, creativity, and a love of learning in children. To help ease this transition, we'll explore some valuable tips for parents and what to expect during the first few weeks of Montessori school.
Prepare Your Child Emotionally. Emotional readiness is crucial for a smooth transition. Start by discussing the upcoming change with your child. Explain why they'll be going to school and the exciting experiences they will have. Encourage their curiosity and enthusiasm, reassuring them that school is a fun place to learn and make new friends.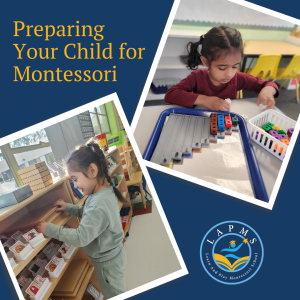 Familiarize Your Child with Montessori Principles. Montessori schools have a unique philosophy focusing on child-centered learning, freedom within limits, and mixed-age classrooms. Introducing your child to these principles before their first day is a good idea. You can read books or watch videos about Maria Montessori's ideas, which will help your child understand the learning environment.
Tour the School Together. Before the first day of school, arrange a tour of the Montessori classroom with your child. This will help them become comfortable with the physical environment, the materials, and the teachers. You can also introduce your child to some of the other students to make them feel welcome.
Click here to Schedule a Tour of any of our Learn And Play Montessori Schools
Establish Routines. Montessori schools emphasize independence, and it's helpful for children to have a structured routine at home. Encourage your child to dress themselves, tidy up after activities, and take care of their personal belongings. These skills will make the transition to the Montessori classroom smoother.
Encourage Grace and Courtesy: Beyond academic development, Montessori education places a strong emphasis on cultivating grace and courtesy. Introduce your child to the values of respect, kindness, and consideration for others. Emphasize the importance of polite interactions and the joy that comes from being part of a supportive and respectful community. By instilling these social skills early on, your child will seamlessly integrate into the Montessori environment, fostering positive relationships with peers and teachers alike. Incorporating grace and courtesy into their daily routines at home will further nurture these essential qualities, contributing to a well-rounded and emotionally intelligent educational experience.
Build Confidence. In the Montessori environment, children are encouraged to make choices and decisions. Help your child build their confidence by letting them make age-appropriate choices at home, such as selecting their clothing or deciding what snacks to eat. This will prepare them for the independence they'll experience at school.
Transitioning from home to a Montessori school can be an exciting journey for both parents and children. By preparing your child emotionally, introducing them to Montessori principles, and building their confidence and independence, you can help them adapt to this enriching learning environment. During the first few weeks, embrace the unique aspects of Montessori education, including mixed-age classrooms and individualized learning, and maintain open communication with your child's teachers. With patience and support, your child is on their way to a fulfilling and transformative Montessori experience.