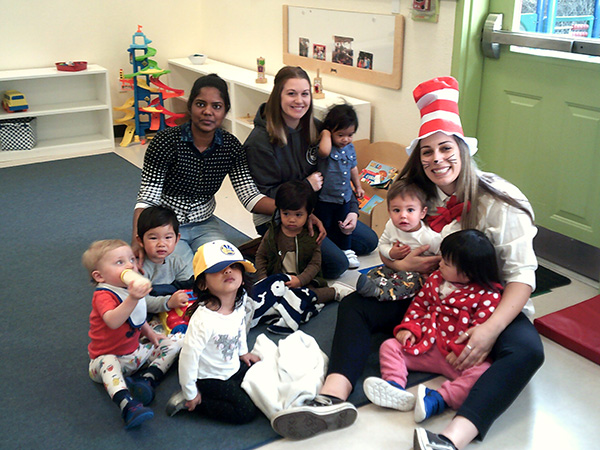 Our Toddler Montessori Program is a fun, loving, and respectful place for our youngest students to become independent and self-confident individuals. Our daycare and childcare programs are Montessori-inspired, and offer best-in-class daycare and childcare for toddlers in Fremont, Dublin, and Danville, California. We encourage them to explore their rich classroom environments by making their own choices from among a wide variety of developmentally appropriate materials.
Note: people often think of our toddler programs as either childcare, daycare, or preschool using the Montessori method. With locations in Danville, Fremont, and Dublin, California, we're convenient to the busy 680 corridor.
Our resourceful Toddler classrooms promote language, math, practical life exercises, science, and the arts as well as fine and gross motor activities. Individual attention is paid to promoting each child's emerging language skills and each child's curiosity to explore all of the learning materials and the outdoors. The primary goal is to support the children's physical, cognitive, social, and emotional growth and to nurture their sense of being in a secure and stimulating environment.
Montessori Program for Toddler: Wrapping Up
Toddlers are an exciting group to work with! We love using the Montessori method for toddlers and are very proud to be often considered one of the best preschools, daycares, and childcare centers in Danville, Fremont, and Dublin / San Ramon. Whether you're looking for a convenient and high quality preschool program (in general), or your versed in the benefits of a Montessori preschool, we'd love to give you a campus tour and discuss how our program can benefit your child. Our Danville campus, in particular, is convenient to the 680 commute from/to Walnut Creek, San Ramon, Blackhawk and other East Bay cities. Reach out to us today to request a campus tour.