Public schools in Fremont, Danville, and Dublin, California, do have their advantages. Let's see: first and foremost – the cost. They are free! Second, some of them can be quite good – even really good here in a city like Fremont as well as other East Bay cities like Danville or Dublin.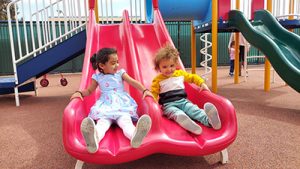 However, they also have their negatives – not just quality of education but their hours. Many of them just do not provide the standard of education that you can get at private preschools in Fremont, CA. But even if they do, there is the question of the hours.
Let's face it, if you are reasonably wealthy and don't have to go to work like most of the population, then the hours of public preschools won't worry you. But there is another thing about the hours of public schools and that is that because they are so short, your child simply cannot get as many hours of learning as he or she will at one of the private preschools in Fremont, CA, or other East Bay communities. Not only that, but if you have so much money that you don't need a job, you can afford a private preschool anyway!
The Majority Of Us DO Have To Work!
But the vast majority of us do have to go to work, and that is the other issue with public preschools. The hours are so short that by the time you have dropped your child off, it is almost time to pick them up again! Well, OK, perhaps that's taking it a tad too far, but you know what we mean.
If you have a job, you have to work the hours that the job demands. So, if school ends at 3.00 pm, you can't just drop everything and go pick your son or daughter up. So that means that you need to hire a nanny who will do that for you and look after your child until you get home from work, and, of course, that costs money.
Now here's the good news. At Learn And Play Montessori our schools are open at 7.00 am and we stay open until 6.30 pm, so whatever your work hours are, we fit in around them. You can drop your child off on the way to work and pick him/her up again on the way home. Not only that, but we don't shut down for nearly three months in the summer: we are open all year round!
Furthermore, we have campuses in Fremont in Irvington, Maple, Peralta, Niles, South Fremont, and a new one opening shortly in Centerville. So, wherever you happen to live or work in and around the city, one of our private preschools in Fremont, CA, is there for you. We also have schools in Danville and Dublin, so if you're in those East Bay communities we offer the same best-in-class experience for your child.