Pleasant Hill South Campus
Daycare (Childcare) | Preschool | Kinder & After School
Explore options for your child and family!
Your child deserves a top-quality program in Pleasant Hill, California! Our program combines a fun approach to learning that unlocks the passion in every child to want to learn. We emphasize basic learning skills, including STEM (Science, Technology, Engineering, and Math) in age-appropriate ways. From 18 months to 9 years old, your child will love our program and so will you as a parent or guardian.
---
Book a Campus Tour | Contact us via webform | Call 925-947-2820 to learn more!
---
A Top-Rated Program and School in Pleasant Hill, California
Our Pleasant Hill South Campus offers best-in-class programs for children from 18 months to 9 years. Wherever possible, we combine age-appropriate best-in-class teaching methods with a focus on STEM (Science Technology Engineering and Math), so as to encourage a lifelong "passion for learning." Use this page to learn more about our programs, or call us at 925-947-2820 or Schedule a Tour today.
Daycare / Childcare. We accept children as young as 18 months to 9 years old and provide quality daycare in a licensed, loving environment. This helps children grow and mature, and assists busy Bay Area parents who want a secure, safe, and caring environment for their little ones.
Preschool. Preschool is the foundation of success in education. Accordingly, our preschool program work to increase the knowledge of STEM (Science, Technology, Engineering, and Math) to set a foundation for the child. Kids love our programs because they are fun; parents love them, because they are effective.
Kindergarten. We are a private kindergarten that offers better hours and higher quality instruction than "free" state programs. The child learns more, and the parents have an easier time due to more flexible and extensive hours.
After School Programs. We also offer "after school" programs for kids in public schools. Call us today to explore costs and options.
Questions and Answers.
Q. What does the program cost?
A. Our programs are affordable, based on the amount of time needed for your child. Use the tabs above to browse costs and rates, or feel free to contact the office for up-to-date rates and tuition. Costs differ as well between daycare/childcare, preschool, kindergarten and after school programs.
Q. How do I enroll my child?
A. The best first step is to call the office and ask any questions. You can also sign up for a school tour, and if you're ready, at that time we can give you the paperwork and forms to fill out. Enrollment is easy, but of course forms are required.
Q. Is this a licensed preschool program?
A. Yes, all our programs meet city and state regulatory requirements. We are a licensed provider, and fulfill all necessary requirements. We go above and beyond the state requirements as needed.
Preschool Daycare Center License is #073408948 & #073408949
Q. What is your methodology?
A. Our program helps families with their daycare, childcare, and preschool needs. Where appropriate and feasible, we add in as much "learning" and "education" as possible. This means we take the best of current teaching methodology, allowing the child to lead the learning process and instill a passion for learning. That said, we recognize that the jobs of the future will be in Science, Engineering, Technology, and Math. Thus, we focus on STEM and also incorporate strong language and multiculture aspects to our program.
Methodology. We believe learning and school should be as "fun" as possible yet help kids to learn, with a focus on STEM (Science, Technology, Engineering, and Math) to foster a passion for learning. Feel free to set up a school tour or call to speak with a specialist to learn more about our educational system.
Learn More. Use the menu above to book a school tour, explore our calendar, registration forms, tuition and other aspects of our exciting program. Again, feel free to call or contact us for more information.
Address.
Play and Learn School
1898 Pleasant Hill Rd, Pleasant Hill, CA 94523
Tel. 925-947-2820
Preschool Daycare Center License is #073408948 & #073408949
Fun Factoid about Pleasant Hill, California
In the early 1970's, the City explored various ways to achieve its vision and, in 1974, adopted the Pleasant Hill Commons Redevelopment Plan for the area, as authorized by the state Community Redevelopment Law.
The Redevelopment Plan provided a framework for future decisions about the type and amount of new development to be allowed, put into place the administrative powers needed to implement the plan, and established the financial resource of property tax increment revenue to fund public improvements and subsidize private sector redevelopment efforts.
The goals of the Redevelopment Plan were strongly supported by the citizens of Pleasant Hill. However, it would be nearly twenty-five years before a new downtown, fulfilling these dreams, would be born.
The first design concepts prepared for the 129-acre redevelopment project area were for a suburban, low-rise, campus-style development of offices and retail uses interspersed with large green spaces, encircling a central lake. However, with little property tax increment revenue in the early years, the City Council, sitting as the Redevelopment Agency, was unable to financially support such large-scale projects. As a result, for a number of years only smaller, individual redevelopment projects were undertaken, around the edges of the redevelopment project area, while the 33-acre core area was reserved for the "dream" project.
Source: https://www.pleasanthillca.org/DocumentCenter/View/567/A-HISTORY-OF-DOWNTOWN-PLEASANT-HILL.
Our Kindergartners act as positive role models for their younger classmates, assuming responsibility that will further reinforce their own capabilities and self-esteem. Everything that children have learned during the Preschool years comes together in Kindergarten, giving children a readiness to meet and explore new challenges. The Kindergarten curriculum strongly focuses on literacy, math, and skills necessary for elementary school such as penmanship, completion of assignments, as well as self-organization. Enrichment activities such as art, music, movement and stage performances, and oral presentations round out the Kindergarten experience, as well. In addition, our Kindergarten class is included within the structure of the Spanish Language Program.
Questions and Answers
Q. What age is preschool?
A. Preschool is typically thought of as between the ages of 3 and 5. However, we accept children as young as eighteen months and go up to age 9 at this campus.
Q. What is the difference between toddler, preschool, and kindergarten programs?
A. We tailor each program not only to the specific child's age group but also to their specific needs. At every age-appropriate opportunity, we introduce learning concepts and work to instill a passion to learn. Toddlers are usually considered between 2 and 3 years old, with preschoolers, 3-5 ages, and Kindergarteners thereafter. But we work with each child individually.
Q. How much does daycare cost?
A. Our rates are cost competitive. Please inquire at the school to learn up-to-date information on the costs of preschool, daycare, childcare, etc.
Q. What are the advantages of a private preschool program over public transitional preschool / kindergarten in Pleasant Hill?
A. Our private program offers more convenient hours, not only during the day and week but throughout the entire year (as in Summe). In addition, our curriculum is a top priority. We encourage children to learn at age-appropriate ways and are an excellent private alternative to the limited options of public preschool and kindergarten in Pleasant Hill.
Q. How should I go about selecting the best daycare, childcare, or preschool for my child?
A. First and foremost, we highly recommend that you call in and make an appointment for a school tour. Our staff is excited to meet you and your child or children. In addition, please read our online reviews and inquire about our fully licensed status with the State of California and all appropriate agencies.
If you have more questions, please contact us. We're happy to answer questions over the phone, in person, or during a school tour!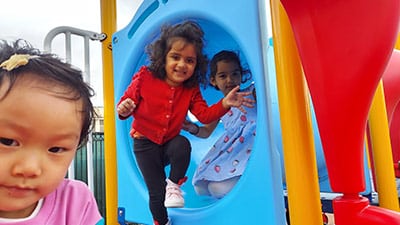 History of Our Pleasant Hill South Campus
This school, formerly known as Play and Learn School, has served the Pleasant Hill community for over 70 years. Most of the staff and teachers have been with the school for 10 years or more with some of them being at our school for 30 years! Our school was awarded the Best Center of 2008 by PACE (Professional Association for Childhood Education). We, at Learn and Play Montessori Schools, are grateful for this acquisition. We will continue supporting the staff and families as well as bringing improvements to the facility and programs that the school offers to the community.
Preschool Daycare Center License is #073408948 & #073408949
Nearby Attractions and Amenities to our Pleasant Hill South Campus
We are located to the West of Interstate 680 off of Oak Park Boulevard, between Pleasant Oaks Park and Brookwood Park. This makes us commute friendly for parents who either live or work in Pleasant Hill, California, or commute along the I-680 corridor. We are south of Concord, and north of Walnut Creek, making us an easy commute school for parents who live or work not only in Pleasant Hill, but in Concord, Walnut Creek, or elsewhere in Contra Costa County.
Here are some kid-friendly resources in and around our Pleasant Hill South Campus:
Pleasant Hill California: Factoid
Here's a fun factoid about Pleasant Hill history. "The area that is now the City of Pleasant Hill grew from farmland to a dormitory community during the Second World War. Residents voted to incorporate it in 1961. Early on, community leaders expressed concern about the deteriorating condition of many properties developed decades before the intersection of Contra Costa Boulevard and Monument Boulevard, two main roads through the community. At the same time, it was envisaged that this central area could be transformed into a focal point for community identity, providing a place for residents to gather and strengthening the community's sense of place." Source: https://www.magnifiedmedia.net/pleasant-hill-ca-top-landmarks-to-v
Welcome to Learn and Play Montessori School's beautiful Pleasant Hill South Campus. This Montessori Preschool is located in historical Pleasant Hill, with easy access to the 680 freeway. We are located at 1898 Pleasant Hill Rd, Pleasant Hill, California.
For More Information Call Us: (925) 947-2820
Email Us: [email protected]
Address: 1898 Pleasant Hill Rd, Pleasant Hill, CA 94523