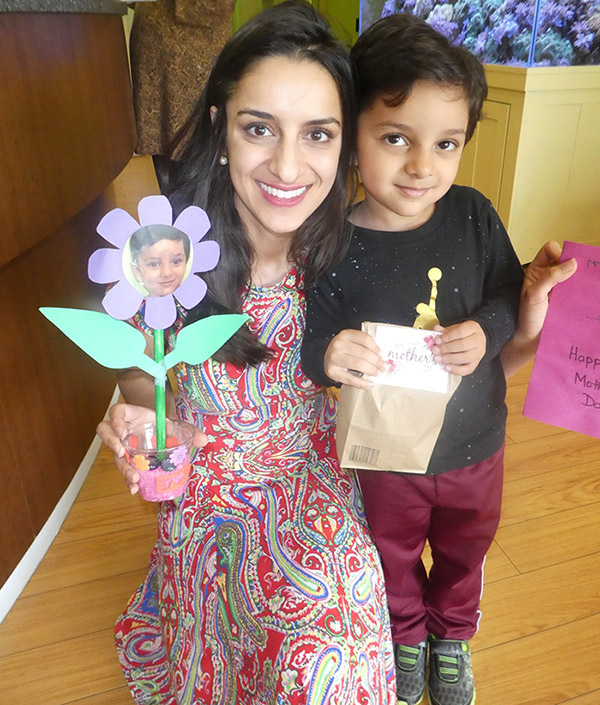 Our family loves Learn & Play Irvington, and we highly recommend it. When I was selecting a Montessori school three years ago, I visited many locations (even all the Learn & Play locations) and we selected the Peralta location because of the staff. When we learned that the principal, Ms. Yvonne, was leaving to open Learn & Play Irvington, we knew we had to "follow the leader." Ms. Yvonne is the perfect blend of what a principal should be — she's firm, but kind and nurturing. She knows every parent's name, every grandparent's name — how she manages to keep track of everyone is beyond me, but she does so with grace. All the teachers are lovely, I have nothing bad to say about the school that Ms. Yvonne runs. You know a school is great when your child looks forward to going, and doesn't want to leave. Academically, I couldn't be happier. I'm amazed at how much my daughter has learned at such a young age. We're going to keep our child there through kindergarten, and wish we could stay longer.
Gabriella K. – Fremont, CA

My daughter has been with Learn and Play, Irvington since 2015, and she has enjoyed her time at school. The teachers are very professional, polite and caring. They put great effort at underatanding the kids as well as guiding parents wherever needed. Our experience with all directors has been nice. Front desk teachers are welcoming, polite and take great care of communicating with parents. Any specific requests have been appropriately handled. Pre-K syllabus is very good and taught very well. Love their annual events.
Viva G. – Fremont, CA

We had tried a couple of other Montessori before enrolling our daughter in this one. Right from the day of the tour till now, I have always felt comfortable sending my daughter here. Although we dont live close to this one, still we dont mind the commute for the peace of mind we get. Facility: This facility has by far been the best designed, well lit, open and very clean of atleast another 10 that I have toured in Fremont/Milpitas including the other LAPMS (Peralta and Maples). The classrooms are big with big open windows. I was very particular about not letting my child be in a dark gloomy room with no windows all day and surprisingly thats very common in many child care facilities including the very expensive ones. Curriculum: Frankly, for this age I am not very particular on this but am surprised how much my daughter has caught up in just the last 6 months she has been in this school. I like their pace and the contents. The only feedback that I may have here is to have better quality worksheets for the kids, sometimes the prints are bad and difficult to identify Teachers: Till now she has been in Classroom 5 and Ms Anna and Ms Manpreet have been wonderful teachers with the right mix of enforcing discipline along with teaching and playing. My daughter will soon be moving to another classroom and I will surely update this post once we see her experience there. Front Desk: They are the best, very welcoming and warm, always with a smile. We love Ms Katrina and Ms Rakhee, they are always open to any number of questions that we may have. Overall, we are very happy here and wish to continue here till she goes to public school. We may also enroll our younger daughter here if the distance still works for us.
Sunayana D. – Fremont, CA

My daughter graduated from there, and now my son attends there. It's a well maintained and clean facility. Ms. Katrina and Ms. Shirley are awesome, we're greeted with friendly smiles and cheerful attitudes everyday at drop off and pickup. My daughter was in Ms. Sanju's class, wonderful and amazing teacher! My son's currently in Ms. Shawnnen's class, also a fantastic teacher.
Maggie H. – Fremont, CA

There hasn't been a single day our daughter wasn't excited about school! She is always happy and looks forward to spending the day with her little friends, Ms. Bertha, and all the other teachers. Ms. Bertha's genuine affection towards children fills our hearts with happiness. We trust in Ms. Kshama's leadership abilities; we chose the school primarily because of her. Mses. Rakhee, Katrina, Shirley, and Shawnnen have always been friendly and caring. In the three months she has attended this school, our daughter has learned to love coloring and art work and speaks some thing new almost every day. It is delightful to see her grow up in a caring and clean environment. We think she has become happier and grown more curious! Kudos to LAPMS, Irvington!!
Haque S. – Fremont, CA

My daughter loves to go to the School everyday- that should tell us all. The teachers are so caring, I remember when my daughter was new and she needed to be patted on back to go to sleep and the teachers did that consistently to ease her into sleep. Miss Anna- wonderful teacher and my daughter talk about her a lot.. Thank you for taking care of our kids..
Kusuma A. – Union City, CA

Our Son has been at this school for one year now. I cannot express enough how wonderful this place is for kids!! I am very particular about education, hygiene and safety. This school has exceeded all expectations. The director and her staff members are professional and extremely dedicated. We have seen significant changes in our son since he started here. He now wants to read, he loves his art work and activities at the school. At times, yes it's true, he wants to go during the weekend to finish off his work . I often do surprise visits and speak with the teachers at great length. I was very touched by the teachers concern for our sons dietary. They wanted him to eat healthy meals and requested very kindly that even though our child is fussy, they will work with him and they offered me ideas to help him too. I could see in their eyes and tone that they really cared! Our son hated the idea of school or daycare!! He cried relentlessly. However, he glows and is happy to wake up and attend this school. Parents, I have toured almost all the schools in the Bay Area. Do not hesitate about this place, the teachers are highly educated and they make learning fun and are very devoted!!
Spring W. – Fremont, CA

My son is going to this school from past one year and he absoloutely loves it.Very nice teachers and very friendly front desk people .They will greet you with such beautiful smile everyday and would listen to all your queries and would reply very quickly. My son is learning alot and we are quite happy.
Poonamr J. – Fremont, CA

Love this school! When we moved from India, we wanted to find the best school for my daughter, some place she could easily blend into. After consulting a few friends and filtering through the reviews and recommendations, we zeroed in on LAPMS. The school and the staff maintain good hygiene, have an exellent curriculum with equal emphasis on academics, physical activity, art, and team work. They provide healthy snacks and lunch and make sure to provide great care to the kids. Very friendly staff, accommodating and caring teachers. My daughter loves this school. We started with the morning program, but on my daughter's insistence, we have now enrolled her full time and she thoroughly enjoys her time in the school. Would definitely recommend Learn and Play Montessori to anyone looking for a great place to help their kids learn, play and stay positively engaged.
Nagashree M. – Fremont, CA

My son has been going to this school for almost 2 years now. Ms Katrina at the front desk is the reason my son adapted to this school so well. In the early days his nerves were always settled by the welcoming smile of Ms Katrina and her high fives. Ms Shirley is also very amazing and always has a smile. When my son moved to an older class the school recommended extending his hours, at first I hesitated but it turned to be an excellent decision. it made him like the school even more. it's a perfect balance of academics and play.
Masooma B. – Fremont, CA

My 4+ year son was going to Learn and Play Montessori (Lapms) Irvington when he was around 2+ years old, when we look back the journey how he was transformed from class 8 to class 1 it's tremendous.My son has learnt a lot .He started reading books, writing and his confidence and public speaking was taken to the next level. Kshama, Director @ LAPMS is simply superb. Her encouraging speech and direction really helped us to groom our son in the right direction. She's a great leader and running a A+ team. This facility is very clean and the class rooms are always clean and tidy.They provide snacks and hot lunch prepared onsite. Its a well balanced menu they have veg and non-veg options. I would like to take this opportunity to pen few lines about the teachers @ LAPMS. Pretty much all the teachers @ LAPMS were very good, caring and focused on child development. They have A+ team and that includes, Miss Anna such an amazing teacher! Miss Anita,Alpa, Sunitha, Vani, Manpreet and front desk management Mayili, Sherli and Katrina. I'm a strong believer of having a very good foundation makes a clear difference in one's education. This is the best pre-school @ fremont, which we have ever come across. This school really cares about ur child development and they focus on individual kids and you can definitely see the outcome on the child. If u r looking for a preschool for ur child in Fremont look no further!!! I strongly recommend this school.
S. S. – Fremont, CA

My son started recently in 3 year old class . He used to cry in the morning initially but the staff at Frontdesk is very cooperative , ms Katrina , ms kshama, ms Rakhee . I never hesitated to call them during the day to ask how my son is doing . Now My son is having fun in the class .He loves all his class teachers and is learning a lot .
Prachi C. – Fremont, CA

My daughter started going to LAPMS when she was 2 years old. 2 years later she is still attending the same school. We have taken a couple of breaks in between for travels but we have always come back for many good reasons. The school is clean. Classrooms, toilets, play area, reception – pretty much every corner is clean and well kept. My daughter has been in at least 4 different classrooms and has been guided by several teachers over the last 2 years. Hats off to all the teachers who are ready to go above and beyond their job requirements. Special thanks to her current class teachers- Ms. Suneetha, Ms. Anna, Ms. Manpreet, Ms. Anita. Her previous class teachers-Ms. Daniel, Ms. Zeena, Ms.Miriam. I always recommend the school to my friends and family and I would recommend the readers to give it a try.
Neha J. – Fremont, CA

This place is amazing. Very friendly staff, clean facility. We transitioned our kid from another school to Learn and Play Montessori School – Irvington. This is so better. Kids are involved in daily activities, arts and learning. The LAPM curriculum instills discipline in the kids and yet the teachers are very caring and flexible when trying to make the kids focus on the task at hand. More , I can see the teachers here makes a genuine efforts to instill good habits in the kids and not just pass the time every day.Perfect balance I would say, and you can be rest assured that not only is your kid in a learning environment, it's a loving environment too! Thanks to Miss Leela, Miss Vani and Miss Susheela. My son always has stories to tell about the things they do as a class. 🙂
Shailaja M. – Union City, CA

My Daughter was about to turn 2 years old and I was looking for school for her but as a mother its so hard to trust other for care ..i toured every school in Fremont..I like this school and I glad did.My daughter is turning 3 and I thank God that i got her into this school School Infrastructure-transition is so smooth,allow home cook food if child is not adjusting to school food,Potty training Send pictures of child doing activity Teachers are amazing Ms.Zeenal is amazing my daughter just dont stop talking about Ms Danielle,Ms.Zeenal-I feel safe and happy that my daughter is being loved and cared This school is full with positive energy ..Even @ 5 in eve u feel the staff is so filled with energy- Ms. Katrina, Ms. MayLi, Ms. Shirley, and Ms. Kshama Superb Director so down to Earth and always Fresh,Happy Face You always have someone you can talk about your concerns.I am glad this school became part of my daughter formative years of her life.
Navi K. – Fremont, CA

Learn and Play Montessori – Irvington is wonderful! The staff is very responsive and attentive to the child's needs. Since day one, my child has been beyond happy (we are going on 2.5 years). Ms. Katrina Flores, Ms. Rakhi and the principle, (Kshama Amberker) from front desk know all of the children and is so gentle and loving and caring with all of the children. Front desk is so unbelievable and welcoming to all kids and parents. I believe the school has a very balanced vision of academics and play for this age group and the older age groups. My daughter has since moved into an older classroom and she talks about what she learned that day because they learn in a very fun way. I know that she is very happy because she runs in every morning waiting to tell her teachers something or show them something. Ms. Vani and Ms. Daniel (previous class) and the director is also very approachable and hands on with the children. She is always willing to stop and speak to the parents about any questions or requests the parents might have. The school is also very organized and clean. We are very grateful to have such a wonderful group of teachers taking care of our kids.
Manu S. – Fremont, CA

We love Learn and Play Montessori School-Irvington! I could not have asked for a better place for my son! He started when he turned two and it was a great transition from home babysitting to the classroom. Ms. Leticia and Ms. Bertha were amazing! He never minded going to class and was always so happy when we picked him up. He came home with arts and crafts almost everyday as well as with a report saying his bathroom schedule and how much he had eaten. It really made us feel better knowing he was being monitored closely and paid attention to. He has made the move to the next classroom up and it was been just as great. He has had a little bit of a harder time with drop offs but his new reach Ms. Shawna as well as Ms. Katrina at the front desk have been so helpful in keeping him distracted while I am signing him in and making it less traumatic leaving me for the day. He is always in such a great mood when I pick him up and is always glad he went to school. He is now potty trained fully and I contribute that to the consistent schedule they keep the kids on! Ms. Kshama, Ms. Mayli and Ms. Shirley always make sure to give us a call while we are at work if anything happens. Whether it's that he didn't eat his lunch for the day or fell asleep early they make sure you know what is going on with your child. I truly can't say enough good things about this school and the teachers they have that continue to prove we made the right decision with this school. Thank you! Baby Z loves you all!
Kendra H. – Fremont, CA

We transitioned our kid from home-based daycare to Learn and Play Montessori School – Irvington. Kids are involved in daily activities, arts and most importantly he loves going to school. Staff is really good, helpful and take good care of the kids.
Satish G. – Fremont, CA

My daughter has been attending Learn and Play Montessori school since she was 2.5 years and now she is getting ready to start her Kindergarten in public school. We started out at the LAPMS Maple St location and transferred to Irvington campus when it had opened. The experience has been nothing short of amazing. The facility in this campus is very well maintained and clean. The rooms (for bigger classrooms) are very spacious and well lit, unlike some of the other schools nearby. The classrooms themselves are very well organized and laid out, for the kids to explore their jobs/activities. There is a large playground with sizable play structure and my daughter loves her play time with her friends and enjoys biking in the evening.They have ample kids restrooms given their school size and they too are very well maintained. My daughter has been in multiple classrooms since starting and is presently in room 2. All the teachers thus far have been very involved with her progress and provided regular feedback and very patiently helped answer all of our queries and concerns. Room 2 teachers have been absolutely fantastic and it is one of the reasons my daughter is very excited to be at the school every day. She misses them everytime they leave on vacation and is so excited when they are back :), and she is already talking about missing them when she starts K. Kudos to all the room 2 teachers: Ms. Sanju, Ms. Deepa, Ms. Poova. A special mention to Ms. Sanju, who is very receptive to parent's feedback and very insightful and collaborative. She has taken great care to focus on individual progress and works with your child in building their trust & self-confidence and empowering them. Having a regular dialogue with Ms. Sanju really helped us understand and accelerate our daughter's potential, especially when we had to prepare her for clearing assessment for joining 1st grade at a Private school, which she did with absolute ease! The Montessori curriculum and activities are excellent and they increase the curiosity and self-learning abilities of the kids. They work on various projects including arts, making it both fun and learning experience. Kids are exposed to various topics/themes, which makes them more knowledgable and conversational. LAPMS hosts parades and ceremonies and have kids showcase their singing and MC skills and as most parents, we have a blast at every outing. Their halloween parades are definitely not to be missed!!! A shout out to the Front Desk team, Ms. Katrina, Ms. Mayili & Ms. Shirley, very friendly and efficient to work with. It is truly amazing that they wish all their kids by their names :). A special mention to Ms. Kshama, whom we have known since LAPMS at Maple. Kudos to the entire LAPMS team, keep up the great work.
Nandha U. – Fremont, CA

Such a delight to see Ms. Katrina, Ms. Rakhee and Ms. Shirley welcoming us with a smile every morning when we drop our grandson. Kudos to the fantastic teachers who do an amazing job with the children.
Lakshmi K. – Milpitas, CA

We love this school. My child wakes up every morning looking forward to going and that in itself speaks for how good the school is. His teachers are caring and put in a lot of effort in the classroom. The front office staff is always smiling and cheerful. Your day goes by knowing that the child is in a fun, loving and caring environment and also he/she is leaning new things everyday. Their curriculum is very impressive and my child comes back home smarter everyday.
Roshni B. – Fremont, CA

Learn and Play Montessori Fremont has the most loving and caring teachers that you can find. The facility is very tidy and was brand new when our daughter started to go there in 2015. The teachers truly care about the needs of the child on a personal basis and pay individual attention to their growth and development. This school has semi annual parent teacher meetings which provides pretty good progress on the child's development. All her teachers have been very disciplined and dedicated! They really played an important role in teaching important concepts to our child. In pre-k the school is already starting to expose the kids to solar system and learning about all past Presidents and what they were known for. The administrative staff, Ms Katrina, Ms Mayli and all others have been great. They always respond to any requests we have promptly and are an integral part of teaching great values to our kids. Our daughter has loved this place since the day she joined and will really miss it when she goes to school next year.
Sunny V. – Fremont, CA

Best school ever! Excellent experience with both my kids. No wonder why they are on high demand.
Laxmi P. – Fremont, CA

Learn and Play Montessori – Irvington is wonderful! The staff is very responsive and attentive to the child's needs. Since day one, my child has been beyond happy (we are going on 2.5 years). Ms. Katrina Flores from front desk know all of the children and is so gentle and loving and caring with all of the children. They all respond so well to her and she is just amazing with them. I believe the school has a very balanced vision of academics and play for this age group and the older age groups. My daughter has since moved into an older classroom and she talks about what she learned that day because they learn in a very fun way. I know that she is very happy because he runs in every morning waiting to tell his teachers something or show them something. Ms Kshama, the director is also very approachable and hands on with the children. She is always willing to stop and speak to the parents about any questions or requests the parents might have. The school is also very organized and clean. We are very grateful to have such a wonderful group of teachers caring for our daughter here!
Santhosh R. – Fremont, CA

HIGHLY RECOMMEND THIS SCHOOL! My son has truly blossomed over the past 1 year academically and socially. He is always eager to go to school and has a wonderful relationship with the teachers. The director and teachers make themselves very accessible and very supportive. LAPMS is by far the best school in this area, provides a safe, loving and secure environment.The care and attention they give to our sons/daughters by far exceeds any of our expectations. Amazing Graduation Ceremony, My son still keeps talking about the prep teachers did to groom all the kids for this ceremony. I will be sad when my Son transitions out since this school is only till Kindergarten and I know more parents will be in agreement and echo the similar sentiments to the management of LAPMS to push this facility till Eight Grade. Thank you so much Ms Kshama, Ms Shirley, Ms Alpa, Ms Jasmine and rest of the wonderful Staff at LAPMS!
Shailesh K. – Fremont, CA

Excellent teachers..friendly atmosphere…Ms.Katrina,Ms.sherli& Ms.Rakhi are doing great job..
Saranya P. – Fremont, CA

Very good school.Spacious class rooms,good play areas.They really care for the kids.All the teachers are awesome.I can see a lot of difference in the way how my son is being groomed….I will definetly recommend this school
Prasanna Shanmugam

It's a very good school. Teachers are professional, kind and supporting. I love their interesting and challenging projects for kids. and I want to mention extremely clean rooms & bathrooms.
Tatyana Taganskaya

My daughter started here in September, 2015. We love the campus, the teachers and the staff. The front desk staff is very helpful and nice. My daughter's class teachers, Ms. Tracy, Ms. Kalra and Ms. Phung are awesome. My 2.5 year loves to talk about them. They are very caring and loving and makes my daughter very comfortable in the school. Their curriculum and teaching helps my preschooler to learn orderliness. I like it that they are not very rigid and keep play (at this age) as primary focus. They do lots of arts and crafts, outdoor play, singing and dancing.
Armina Baig

My daughter started at Learn & Play, at the Irvington location when it first opened in March, 2015. She was one of the first child to walk in the door. We checked out the other Learn & Play but chose Irvington because it was closer to home & easier for me & her dad to do drop off and pick ups, since I was pregnant at that time. It took her a couple of months to adjust. Big thanks to the teachers because they were so welcoming & made her comfortable. The classroom size was perfect for her too. Her teachers are great. She have learned a lot since her first day. It's like she is a whole different person. 🙂 She loves to tell me what she learned in school and about her teachers. My daughter use to be a really shy child but since she has been at Learn and Play, she is such a social butterfly now. Listening to her talk about her day at school, is like I have been there the whole day too. If she is happy, then I am happy. I love that she is learning so much. I love her teachers as well. I just recently gave birth to my third child and I'll definitely be enrolling her to this school when she's at the right age. The front desk staff is very helpful. I didn't feel like I was rushed out the door because they took the time to answer every questions & concerns that I had, and I had a lot. They even took the time to make me feel comfortable and checked on me even after I dropped her off, of course they told me how she was doing too. 🙂 Anything that happened to her, like if she has an accident in the play ground or inside the classroom, the school is very good at calling me to inform me what happened. Ms. Yvonne is the Director at this school. She runs her school very well. Sometimes she is the person on the other line calling you about your child. It's a great feeling to know that the director cares for your child as much as you do. She always makes herself available to the parents. She is the first & the last person you see when you drop & pick up your child. She always knows all the children name & parents name too. I love her welcoming attitude, especially in the mornings. 🙂
B. B. – Fremont, CA

I have visited at least 10 Montessori schools in the past year in and this school is BEAUTIFUL! The staff is excellent under the amazing guidance of the Director/Principal Ms Yvonne. The classrooms, activities, play area, food and state of the art safety measures are stellar. The children are HAPPY!! i highly recommend the Irvington – Learn and Play Montessori school!
Susan S.- Pleasanton, CA