If you live or work in or near Pleasant Hill and need a preschool for your child, we have some good news. Learn And Play Montessori has just acquired Play And Learn School which sits next to Pleasant Hill Elementary School, and which has been serving the local community for over 70 years.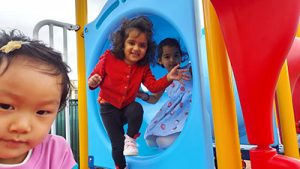 Most of the staff and teachers at the former Play and Learn School have been in place for over ten years, and in fact some of them have been there for more than 30 years! In 2008, PACE (Professional Association for Childhood Education) awarded the school Best School of that year, which is no small achievement.
Learn And Play Montessori has been active in the East Bay for many years and has ten preschools in the East Bay in Fremont, Dublin, Dublin Ranch, Danville, and Milpitas. Now, with our acquisition of Play and Learn School this brings the total to eleven as we expand northwards. If you commute down the I-780 from Benicia or Vallejo, or the 680 from Martinez, then you now have a Learn and Play Montessori school conveniently to hand. It is also handy for residents of Pinole, Bay Point, Pittsburg, Lafayette, and Walnut Creek, so is ideal for anyone looking for Pleasant Hill, CA, preschools.
Of course, quite a number of people commute northwards up the 680 from Pleasanton, Dublin, San Ramon, and Danville, and although we have a campus in Dublin and another in Danville, it could be that Pleasant Hill, CA, preschools would be a better option for you, so Learn and Play Montessori would be the perfect choice.
Convenient For All Working Hours
The school is open from 8.00 am to 6.30 pm so is also very convenient for anyone who starts work early in the morning or finishes late. The school serves children from the age of 18 months to 9 years old. We are continuing to support the existing staff who have been working at the school, and we are bringing improvements to the facility and the programs that the school offers to the local community, so that what has been an excellent school will get even better.
Our school provides everything that any parent could wish for, from daycare for the toddlers through to kindergarten and beyond. The kindergarten curriculum provides your child with skills in literacy and math, and also covers art, music, dance, stage performance, oral presentations, and even Spanish, so that each child gains the confidence that will enable him or her to excel at whatever they want to do and whoever they wish to be going forward.
We invite all parents looking for Pleasant Hill, CA, preschools to visit us for a school tour so that you can see for yourselves how well the children are doing.