Our Danville Montessori School is convenient to Blackhawk, California. In fact, many busy Blackhawk parents choose our school for their childcare, daycare, preschool or kindergarten needs because we combine the best of two worlds: first, a best-in-class Montessori-based program for your child, and second, an easy location convenient for "commuters" along the 680 corridor in Contra Costa and Alameda counties. If you live or work in Blackhawk, use this page to get driving directions to our school and sign up for a "school tour."
Use the other links to pages on our website to learn more about our Montessori-based programs of preschool, childcare, daycare, and kindergarten. Or just call us – we're happy to talk!
Head east on Conifer Terrace toward Sequoia Terrace
Turn right on Sequoia Terrace
Turn right onto Blackhawk Dr.
Turn left onto Blackhak Dr.
Turn right onto Camino Tassajara
Continue onto Sycamore Valley Rd
Use the right lane to turn right onto San Ramon Valley Blvd
We will be on the right. It's an easy commute, so if you're looking for one of the best daycare, childcare, preschool, and/or kindergarten programs in Blackhawk, you might find that a Danville program best suits your needs.
Learn More about Our Montessori Program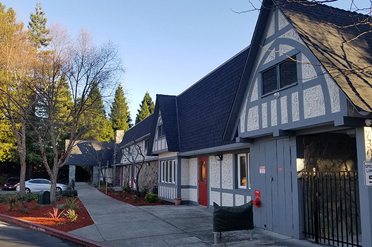 Since we're convenient to Blackhawk, California, we have many parents who want not only a quick and easy commute to our childcare, daycare, preschool, and kindergarten programs but also the best possible program for their child.
Use the links below to learn more about our methodology:
Childcare – learn how the Montessori method works even at the level of childcare.
Daycare – if you're looking for daycare, explore your options here.
Preschool – what happens "before" school impacts your child's lifelong learning experience.
Kindergarten – we offer an alternative to state kindergarten, based on the Montessori method, to better prepare your child for 1st grade.
Blackhawk Factoid
We're proud of the history of each of the communities we serve, so here's a factoid on local history.
Blackhawk's reputation for high-end luxury homes is long standing and well deserved. Although there are many homes here that were built speculatively and with well under 2,500 square feet of living space, even including some townhomes, a glance along Blackhawk Drive reveals numerous architectural styles where an English Tudor sits happily alongside a French Provincial or a Greek Revival home. Many of these properties are over 5,000 square feet and built to the highest standards.
So that summarizes the history of Blackhawk so far as residential development is concerned but Blackhawk is about more than real estate. There are many social and recreational activities here, most of which center around the Prestigious Blackhawk Country Club with two championship golf courses, swimming pools, tennis courts and two club houses. Then, there is the Blackhawk Shopping Center (also known as "The Shops at Blackhawk", which features numerous quality restaurants and stores together with the world famous Blackhawk Motor Museum.