Our Danville Montessori School is convenient to Pleasanton, California. In fact, many busy Pleasanton parents choose our school for their childcare, daycare, preschool or kindergarten needs because we combine the best of two worlds: first, a best-in-class Montessori-based program for your child, and second, an easy location convenient for "commuters" along the 680 corridor in Contra Costa and Alameda counties. If you live or work in Pleasanton, use this page to get driving directions to our school and sign up for a "school tour."
Use the other links to pages on our website to learn more about our Montessori-based programs of preschool, childcare, daycare, and kindergarten. Or just call us – we're happy to talk!
Get on I-680 north from Pleasanton Ave and Bernal Ave.
Follow I-680 N to Sycamore Valley Rd in Danville. Take exit 38 from I-680 N
Continue on Sycamore Valley Rd. Drive to San Ramon Valley Blvd
Use the right lane to turn right onto San Ramon Valley Blvd
We will be on the right. It's an easy commute, so if you're looking for one of the best daycare, childcare, preschool, and/or kindergarten programs in Pleasanton, you might find that a Danville program best suits your needs.
Learn More about Our Montessori Program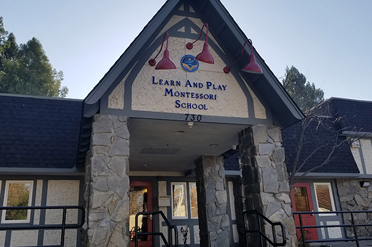 Since we're convenient to Pleasanton, California, we have many parents who want not only a quick and easy commute to our childcare, daycare, preschool, and kindergarten programs but also the best possible program for their child.
Use the links below to learn more about our methodology:
Childcare – learn how the Montessori method works even at the level of childcare.
Daycare – if you're looking for daycare, explore your options here.
Preschool – what happens "before" school impacts your child's lifelong learning experience.
Kindergarten – we offer an alternative to state kindergarten, based on the Montessori method, to better prepare your child for 1st grade.
Pleasanton Factoid
We're proud of the history of each of the communities we serve, so here's a factoid on local history.
John W. Kottinger, who arrived in 1851, was responsible for the naming of Pleasanton after a distinguished Civil War general, Alfred Pleasonton. However, a spelling error by a recording clerk in Washington D.C. resulted in a much more appropriate name. When the transcontinental railroads rolled into Pleasanton in 1869, the town was assured of a future. The population then was only 500, but it soon began to grow.
Ranchers and thoroughbred horse breeders were attracted to the favorable climate and abundance of water, and were soon followed by dairy farms, hop fields and vineyards. Blessed with rich soil, Pleasanton soon became the agricultural center for the Amador Valley and home to the oldest horseracing track in the nation. The hops grown here were sought by many of the largest beer producers in the United States and Europe, making Pleasanton internationally famous.
Pleasanton was incorporated in 1894 and by 1900 was a thriving community complete with the Bank of Pleasanton, the Pleasanton Hop Company, the Ruby Hill vineyard, and three fancy hotels. Main Street became a center for business and community activity and, although agriculture didn't completely disappear, Pleasanton was on the road to becoming a modern community.
Source: https://www.pleasanton.org/history-of-pleasanton.html