Our Danville Montessori School is convenient to San Ramon, California. In fact, many busy San Ramon parents choose our school for their childcare, daycare, preschool or kindergarten needs because we combine the best of two worlds: first, a best-in-class Montessori-based program for your child, and second, an easy location convenient for "commuters" along the 680 corridor in Contra Costa and Alameda counties. If you live or work in San Ramon, use this page to get driving directions to our school and sign up for a "school tour."
Use the other links to pages on our website to learn more about our Montessori-based programs of preschool, childcare, daycare, and kindergarten. Or just call us – we're happy to talk!
Head south on San Ramon Valley Blvd toward Deerwood Rd
Make a U-turn at Deerwood Rd
We will be on the right. It's an easy commute, so if you're looking for one of the best daycare, childcare, preschool, and/or kindergarten programs in San Ramon, you might find that a Danville program best suits your needs.
Learn More about Our Montessori Program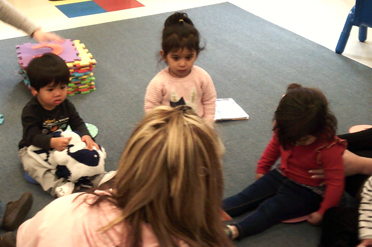 Since we're convenient to San Ramon, California, we have many parents who want not only a quick and easy commute to our childcare, daycare, preschool, and kindergarten programs but also the best possible program for their child.
Use the links below to learn more about our methodology:
Childcare – learn how the Montessori method works even at the level of childcare.
Daycare – if you're looking for daycare, explore your options here.
Preschool – what happens "before" school impacts your child's lifelong learning experience.
Kindergarten – we offer an alternative to state kindergarten, based on the Montessori method, to better prepare your child for 1st grade.
San Ramon Factoid
We're proud of the history of each of the communities we serve, so here's a factoid on local history.
San Ramon had several names in the nineteenth century. It was called Brevensville (for blacksmith Eli Breven), Lynchville (for William Lynch) and Limerick (for the many Irish settlers). The first village developed at the intersection of today's Deerfield Road and San Ramon Valley Blvd. In 1873 when a permanent post office was finally established, it was called San Ramon. During the 1860s the village became a hub of community activity. In 1864 a stage line established by Brown and Co. ran from San Ramon through the valley to Oakland. A church was dedicated in 1860, the general store was built in 1863 and students left their home-based classrooms to attend the San Ramon Grammar School beginning in 1867. Saloons, a jail, Chinese wash houses and blacksmith shops lined County Road No. 2 (later San Ramon Valley Blvd.).