Learn and Play Danville Montessori is one of the few preschools in Danville that embraces the Montessori Method of learning which has been in use for over 100 years. It sees the child as naturally eager to learn and as capable of doing so in the right environment. Its' aim is to develop the child physically, emotionally, socially, and cognitively.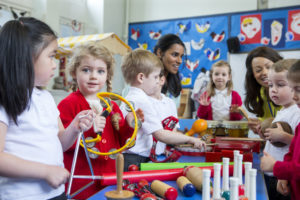 The Montessori Method lets children choose their activity from a range of options, and allows for uninterrupted blocks of work time, ideally three hours. Children learn by working with materials rather than listening to a teacher. Children have freedom of movement within the classroom and use specialist educational materials developed by Maria Montessori which are usually made of natural materials rather than plastic. The children have a trained Montessori teacher who follows the progress of each child and can observe the child's particular talents and abilities.
Our Montessori program provides children with free activity in an environment that is tailored to the specific characteristics of children at different ages, and to the individual personality of each child. The aim is to allow the child to develop his or her own independence in all areas.
According to the Montessori principles, the environment should demonstrate beauty and harmony and be clean, while making activity and movement easy. There should be limitation of materials so that only those that support the child's development are included, and there should be order, and nature inside and outside the classroom. Our Montessori program in Danville follows these rules.
Several studies over the years have found that children who attended Montessori schools at an early age outperformed their high school class mates in maths and science several years later on, while others have suggested that "when strictly implemented, Montessori education fosters social and academic skills that are equal or superior to those fostered by a pool of other types of schools."(Angeline Lillard, September 9th 2006).
Montessori identified periods of particular sensitivity as a child develops and listed them as follows:
· Acquisition of language—from birth to around 6 years old
· Interest in small objects—from around 18 months to 3 years old
· Order—from around 1 to 3 years old
· Sensory refinement—from birth to around 4 years old
· Social behavior—from around 2½ to 4 years old
She also observed what she called "normalization" in children from three to six years old which is characterized by the ability to concentrate as well as "spontaneous discipline, continuous and happy work, social sentiments of help and sympathy for others."
At Learn & Play Montessori in Danville, we work hard to insure that the methods developed by Maria Montessori are adhered to as closely as possible in order that your child can develop into a special human being.