Tesla is the largest employer in South Fremont. That's not at all bad for a company that only began in 2003. We know many families who have "made a career" working at the factory. It's something we're very proud of in Northern California. It's the green transition, plus the cars are just beautiful! What's not to like?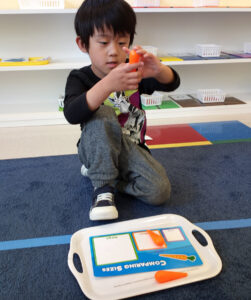 Of course, if you work for Tesla and you are one or both of a young couple who have just had their first child, then you may very well want daycare for him or her while you go off and do your shift. In that case, what could be better than a daycare near Tesla in Fremont, California, just minutes away from the "office"?
At Learn And Play Montessori we are delighted to be able to offer you daycare near Tesla in Fremont, California, and we are only just down the road. We are close to Warm Springs and Irvington, and we are proud to be able to offer first class daycare in a brand new purpose-built campus for daycare, preschool, and kindergarten which has only been open for a few months.
We already had four campuses in Fremont, in Irvington, Niles, Peralta, and Maple, but we could see that the good people of South Fremont were crying out for a better start in life for their kids, and when the opportunity arose to purchase the land and build a Montessori campus for you, we grabbed it with both hands.
Daycare That Is Convenient For Your Working Hours At Tesla
So, now you can start your child off on the right road for the years ahead with daycare near Tesla in Fremont, California. We open at 7.00 am and stay open until 6.30 pm, so whatever your hours are at Tesla, we are here for you. We are on Fremont Boulevard just up from Blacow, and perfect for commuters on the I-680 and I-880. It couldn't be easier: drop your child off, go to work, and just pick him or her up again on the way home.
The Montessori method of learning is just that: it is more about learning than being taught. Our kids in preschool and kindergarten don't spend all day listening to a teacher talking. They have a huge store of Montessori materials from which they can choose whatever interests them in order to learn about it and explore it. So, they learn because they want to learn.
When you start your child off with daycare at Learn And Play Montessori, those are the first few baby steps on the way to a lifelong love of learning.