Many folks in Pleasant Hill commute. They might go into San Francisco or down the I-680 to Dublin and beyond. Indeed, some go to Fremont, and others as far south as Milpitas and even San Jose. Still others go across to Oakland and down to San Leandro and Hayward. Those commutes can be as brutal as the community of Pleasant Hill is, well, "pleasant".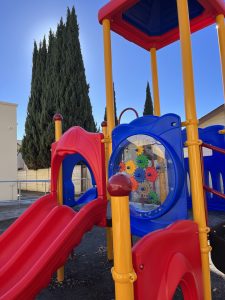 All this is bad enough if you have no children, but when you are a parent and need daycare in Pleasant Hill, CA, it can become very difficult depending upon your working hours.
Fortunately, at Learn And Play Montessori, we have the answer for you. We have been providing daycare in the East Bay for many years, but we have now just acquired what used to be Play and Learn School in Pleasant Hill Rd (next to Pleasant Hill Elementary School), and can now provide daycare in Pleasant Hill, CA, at the hours that fit around your work.
We open at 8.00 am and remain open until 6.30 pm. So, if you start work early, that's fine, and if you have to work till the late afternoon, that's fine as well. You can drop your child off on the way to work and pick him or her up on the way home again. It is a welcome relief for tired commuter moms and pops.
Little More Than Playing with Blocks and Drawing Pictures
Many daycare facilities provide very little more than just that: looking after your child while you are at work and letting him or her play with bricks and blocks and draw pictures using crayons. However, our daycare in Pleasanton, CA, provides a lot more than that. Of course, we do let the children play and draw, but we also set them off on the right road for their future education.
Our aim is to help the brain development of your child, and so we will introduce them to other subjects that will start them off on the right foot such as math, language, movement, visual arts, science, and more. This provides each child with so many more possibilities and opens up the mind to exploring and wanting to learn more. When this is done correctly, it begins to dawn on the child that learning and exploring is fun. So, they begin to start learning because they want to do it rather than having to do it. And the more they learn, the more they want to learn.
This is just so much better for your child than having to spend time a year or two down the line sitting at a desk or cross-legged on the floor listening to a teacher talking about something that may have no interest for them.
Come and talk to us at Learn and Play Montessori at 1898 Pleasanton Hill Rd and find out more.