November 18, 2020 – Fremont, California. Learn and Play Montessori, a best-in-class provider of online kindergarten and online preschool taught in an innovative, Montessori-inspired way, is proud to announce new information resources focused on online preschool activities. The new information in video format helps busy parents find best-in-class online preschool activities to keep their preschoolers engaged and learning in this time of Pandemic.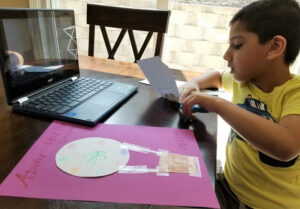 "Our online preschool activities are delivered in video format," explained Harpreet Grewal, director of Learn and Play Montessori. "Our focus is to provide best-in-class preschool activities for busy parents and their preschoolers. We know that many parents are struggling not only to keep their children engaged but to keep them learning in today's environment."
Persons interested in exploring the online preschool activities can find a key information page at https://www.learnandplaymontessori.com/blog/online-activities/. That page lists key video assets that parents can access for their children. An example video is the hand-washing song at https://youtu.be/cO7Fq1x5UeE. In that video, "Miss Emily" teaches children how to properly wash their hands – obviously a key life skill in today's environment. A second example focuses on fun learning about dinosaurs at https://youtu.be/LNp_kU_zd-U and now tops over twenty thousand views. Parents who want to dig in to the cornucopia of online preschool options can visit https://www.learnandplaymontessori.com/online-learning/ or reach out to the staff for a consultation via phone or email. The school offers face-to-face and fully online / virtual options for preschool and kindergarten.
ONLINE PRESCHOOL ACTIVITIES THAT KEEP CHILDREN LEARNING

Here is background on this release. It's no secret that both parents and preschoolers are struggling to keep learning in today's environment. The pandemic has shut schools across the country, and forced many of them into an online only learning environment. At the same time, many parents are working from home or have to continue their job activities which may be outside the home. Parents, in short, have been left as the last resource for society to keep their children learning. Fortunately, learn and play Montessori has launched a cornucopia of online learning activities for preschool. The new post identifies where busy parents can avail themselves of these best in class online learning resources.
ABOUT LEARN AND PLAY MONTESSORI
Learn and Play Montessori (https://www.learnandplaymontessori.com/) aims to be one of the best Montessori schools in the greater San Francisco Bay Area. Whether parents are looking for a Montessori School in Danville, a Blackhawk preschool, or a top-rated Montessori School in Dublin / San Ramon, Learn and Play has a campus for their child or children. Bay Area parents searching for Walnut Creek preschool options could find the right fit in Danville. All schools use the famed Montessori method, offering programs from childcare to daycare, preschool to kindergarten, in not only Danville, Fremont, Dublin, or San Ramon but also in nearby towns such as Alamo, Blackhawk, Diablo or San Ramon on the I-680 corridor as well as Walnut Creek.
Learn and Play Montessori
Media Relations