Thanksgiving has been and gone. Black Friday has too, although it seems to be a Black Two Weeks these days, as stores go on and on trying to squeeze every last cent out of us. Before you know it, it will be Christmas. Then it's New Year and – wow! – that's another year gone and it's January again! We're back in the January sales.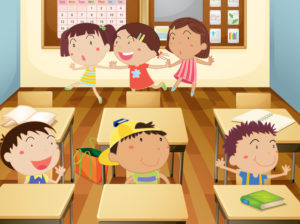 It is such a busy time of year for parents, but now is the time when many decide that it is overdue to get some "me" time and relax a little, so what better month than January to get your little bundle of joy into Dublin preschool? Montessori is the option that many parents choose, and Learn And Play Montessori is right here, just off the I680. We are in an ideal position for parents who have to commute, as many do.
We are in Silvergate Drive in Dublin, and the good news is that we open at 7.00am and stay open until 6.30pm, so you can drop the little fella off at our Dublin preschool on the way to work and pick him or her up again on the way back. Now that really makes your life simple, doesn't it?
Accepting Children From Two to Six
Our spacious campus is open for children from the age of two to six and provides five light and airy classrooms where the children can explore the huge stocks of Montessori materials and find things that interest them. The Montessori method works so well because it lets the children explore and learn about things by doing rather than sitting down listening to a teacher talking. If you think about it, this makes so much sense. The child learns about the things that he wants to learn about. He sees something that looks interesting and then uses the tools and facilities that the Montessori method provides to find out more about it.
So the child is spending his time in useful constructive work that he actually enjoys rather than having to sit down and listen to something in which he has no interest. It follows that if you enjoy doing something you will want to do more of it, and this is the way that the Montessori method works. Our Dublin preschool children learn because they want to rather than because they have to. Our teachers keep a constant watch on their charges and will introduce the child to new materials when he is ready to explore further.
We welcome parents to come and see what we do and how our children enjoy learning. Please feel free to call and book a school tour at a time that suits you.