If you are looking for Warm Springs neighborhood preschools in Fremont, CA, then Learn And Play Montessori is for you.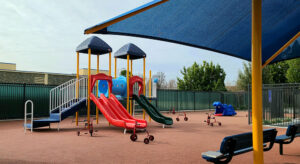 You may well be aware that we have had preschools covering a lot of Fremont for several years, but the great news is that we have just built a brand new campus from the ground up in Fremont Blvd which is just up the road from Warm Springs. It opens this month (March) and will take children from the age of 2 – 6 years old.
If you are working parents, we are convenient for you because not only are we just up the road but we open at 7.00 am and we don't close until 6.30 pm, so whatever your working hours are, we fit around you. You can drop your child off on the way to work and pick him or her up again on the way back home. What could be simpler? What's more, at Learn And Play Montessori we don't close down for weeks on end in the summer as the public schools do. We are open all year round. So if you are looking for Warm Springs neighborhood preschools in Fremont, CA, we are now on your doorstep!
Our new preschool has a great playground at the rear with all sorts of different games and toys for the children to play on and get out in the fresh air whenever possible. There are slides and tricycles available so that they can have fun. We believe that learning should be fun. That is part of the basics of the Montessori method of learning.
The classrooms are filled with all sorts of top-quality Montessori materials, and every child is allowed to browse through them and select whatever catches his or her interest. Then they can take them away and play with them and find out all about them. This is why our children quickly learn to love learning because they are experimenting with something that is of interest to them. This is very different from sitting cross-legged on the floor listening to a teacher talking about something which may not interest them at all.
Furthermore, there is no pressure. Some children are quick learners while others are slower. But there are no deadlines. The teacher watches what each child is doing and when he is ready will introduce him to further materials.
We are only too happy to invite all parents looking for Warm Springs neighborhood preschools in Fremont, CA, to come to our new South Fremont campus for a school tour. We are at 41965 Fremont Blvd, and you can call us on (510) 826-2111 or email [email protected] to make an appointment at a time that suits you.