If you live in San Ramon and you are looking for a private kindergarten for your child, you will have found that your options are somewhat limited. However, Learn And Play Montessori is a private kindergarten near San Ramon – just up the road in Danville.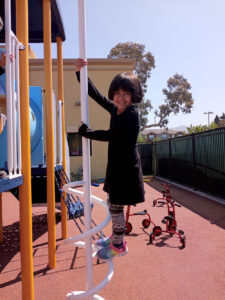 This is very convenient for residents of San Ramon, as we are only just off the I-680 and off Sycamore Blvd. Our beautiful new school building has only recently been opened and is in the perfect position not only for San Ramon parents, but those living in Alamo, Diablo, and even Walnut Creek.
Our Tudor cottage style campus is situated in lush green surroundings and has no fewer than eight large and light classrooms which are filled with Montessori materials of the highest quality that will appeal to young and enquiring minds. As a private kindergarten near San Ramon, we have programs for children from the age of 18 months right the way through to six, and unlike the public schools, we are open all year round so we are ideal for working parents. Even more convenient is that we open at 7.00 am and we stay open until 6.30 pm so it is perfect, whatever your own working hours may be. Your child can be with us full time, part time, or even after school.
A Large Secure Playground
Our campus also has a large gated and secure playground at the rear of the school, and it has separate areas for each age group. Here your child can explore nature up close and can play and work on strengthening his or her gross motor skills.
The Montessori method is based upon the fact that every child is an individual, and respects that each is unique and has his or her own capabilities. Children are allowed to choose for themselves from the wide choice of Montessori materials whatever takes their interest, and play with them, explore them, and satisfy their curiosity.
Our children are introduced to math, art, music, and dance, and begin to learn Spanish as well. They will learn to write phrases in script and cursive and will find out about language, poetry, and the concepts of earth, sea, continents, and countries. They will learn about botany and biology, and begin to understand cultural concepts.
So, if you are looking for a private kindergarten near San Ramon, that is also convenient for Blackhawk and Tassajara, then you should consider Learn And Play Montessori in Danville. We offer all parents the chance to take a school tour at a time that suits you, so that you can see how we work and how our children learn at first hand.