April 28, 2020 – Fremont, California. Learn and Play Montessori, a best-in-class preschool program in Fremont, Danville, and Dublin, California, is proud to announce successes in its online learning efforts on both Facebook and YouTube.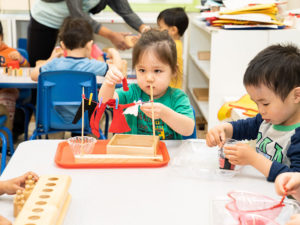 Due to the shutdown in California, the company is working hard to bring its parents and students best-in-class Montessori instruction that is fun and informative.
"Our staff deserves an Academy Award for the quality of the instructional Montessori learning content that they have posted to Facebook and YouTube during the shutdown," explained Harpreet Grewal, director of Learn and Play Montessori. "We're seeing incredible engagement on Facebook and YouTube, both in our live sessions and in the recorded videos. We're proud to help preschool children in Dublin, Danville, and Fremont, California, to stay engaged and continue learning during the virus shutdown. Our goals are for the children to keep learning the Montessori way and parents to find informative, useful online content to assist them in teaching their children."
First, parents and children are encouraged to access the company's "remote learning page" at https://www.learnandplaymontessori.com/remotelearning/. Second, everyone is encouraged to check out the company's YouTube channel at https://www.youtube.com/c/LearnAndPlayMontessoriSchool. The lively channel features many videos including instructional videos using the Montessori method, "Live" videos shot at the Niles, Fremont, California campus for Facebook, and sing-a-long videos. A third option is to tune in to the daily live Montessori sessions on Facebook at https://www.facebook.com/learnandplaymontessorischool/live.
The response to-date has been incredible. On any given day, almost a thousand parents can be found accessing either the live content or the recorded videos. Learn & Play's hard-working staff is busy conceptualizing the daily script, singing songs, and showing Montessori-based learning lessons that can be done using household objects. In addition, the teachers reach out to their students and stay engaged.
ABOUT LEARN AND PLAY MONTESSORI
Learn and Play Montessori aims to be one of the best Montessori schools in the greater San Francisco Bay Area. Whether parents are looking for a Montessori School in Danville, a Blackhawk preschool, or a top-rated Montessori School in Dublin / San Ramon, Learn and Play has a campus for their child or children. Bay Area parents searching for Walnut Creek preschool options could find the right fit in Danville. All schools use the famed Montessori method, offering programs from childcare to daycare, preschool to kindergarten, in not only Danville, Fremont, Dublin, or San Ramon but also in nearby towns such as Alamo, Blackhawk, Diablo or San Ramon on the I-680 corridor as well as Walnut Creek.
Learn and Play Montessori
Media Relations
https://www.learnandplaymontessori.com/