Fremont, California – March 4, 2019. Learn and Play Montessori, a highly-ranked preschool system serving parents and children in Fremont, Union City, Dublin, and San Ramon, is proud to announce an intriguing post on the popular "preschools near me" search query. Parents often seek a nearby preschool to make it easy for them to and from home as well as to and from their work.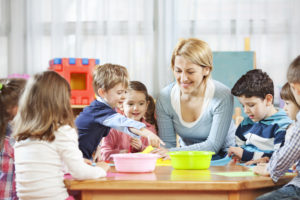 As the post explains, the search for "Fremont preschools near me" might result in a selection based on proximity instead of quality. A parent interested in a Montessori environment could be ready to drive a little further for the best preschool experience.
"We know convenience is important to parents around the Fremont area. We also understand that choosing a preschool is different from a grocery store or pizza place," explained Harpreet Grewal, director of Learn and Play Montessori. "Parents have told us that they are willing to drive a little further, so their children receive a quality early education. Despite the popularity of "near me," the post argues that quality should trump proximity."
Parents Googling "Fremont preschools near me" can read more about the new Learn and Play Montessori blog post. Those who want a deep dive into information on preschools can check out the Niles Fremont post. Mothers and Fathers might be ready to drive a few extra miles for a quality preschool. A staff of expertly-trained Montessori teachers can make the difference in a child's development. Parents commuting from Union City south toward Silicon Valley can review current openings. Those closer to central Fremont can visit the informational page on the Peralta location.
BAY AREA PARENTS GO BEYOND "FREMONT PRESCHOOLS NEAR ME" SEARCHES TO FIND THE BEST EARLY CHILDHOOD EDUCATION
Here is the background for this release. Convenience can be an essential component for parents on a busy day in the Bay Area. A dad might search for the best nearby pizza parlors to grab dinner for a hungry family on the way home from the office. A mother in need of cough syrup for a sick child might Google the nearest 24-hour drug store. Primary everyday services could be easy to locate nearby. If a child is ready for preschool, a parent could search for "Fremont preschools near me." The result may indicate the best preschool might not be the closest.
A nearby preschool down the block might not meet family expectations. Run-of-the-mill daycare workers could teach a basic curriculum lacking in substance. Parents might expect a child's first educational experience to be exceptional.
For these reasons, Learn & Play Montessori has announced a new blog post for parents seeking quality over convenience. The best preschool can customize a robust learning curriculum to meet the individual needs of a young child. Choosing the right "Fremont preschool near me" can mean parents are ready to go the distance for an excellent early-education option.
ABOUT LEARN AND PLAY MONTESSORI
Learn and Play Montessori aims to be one of the best Montessori schools in the greater San Francisco Bay Area. Whether parents are looking for a Montessori School in Danville, a Blackhawk preschool or a top-rated Montessori School in Dublin / San Ramon, Learn and Play has a campus for their child or children. Bay Area parents searching for Walnut Creek preschool options could find the right fit in Danville. All schools use the famed Montessori method, offering programs from childcare to daycare, preschool to kindergarten, in not only Danville, Fremont, Dublin or San Ramon but also in nearby towns such as Alamo, Blackhawk, Diablo or San Ramon on the I-680 corridor as well as Walnut Creek.
Learn and Play Montessori
Media Relations