Danville, California – December 22, 2018. Learn and Play Montessori, the leading provider of Montessori preschool in Danville, Fremont, and Dublin in the East Bay region of the Bay Area, is proud to announce a new blog post on the availability of Montessori programs in Danville and nearby San Ramon, CA.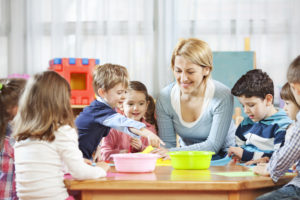 Parents seeking top-of-the-line preschools in a high-quality learning environment may not be aware of one close by. A busy parent could drive past a top Montessori school each day in Interstate 680 without recognizing it.
"It's funny how many times parents walk into one of our schools and act surprised. They will say they didn't realize we were so close to their home or their commute on 680," explained Harpreet Grewal, director of Learn and Play Montessori. "Maybe it's because some of the schools blend in so well with the community. Our locations have well-maintained campuses and provide a top Montessori environment for Danville, Blackhawk, and San Ramon children."
To review the new blog post for finding the best available Montessori programs in Danville and San Ramon, CA please visit the website. Concerned parents living in an affluent city along the I-680 corridor may want a quality early learning experience for a child. A mentally stimulating daycare, preschool, and kindergarten can help prepare young minds for elementary school. To learn more about Danville preschools, interested persons can go to either the informational page or the new Danville preschool blog.
BEST-IN-CLASS MONTESSORI PROGRAMS CAN BE RIGHT UNDER THE NOSES OF DANVILLE AND SAN RAMON PARENTS
Here is the background on this release. Parents living in affluent neighborhoods around the East Bay could be frustrated with the lack of quality child care nearby. It might be essential to find a daycare ready to prepare a young child for success and a passion for lifelong learning.
A working father in Danville might expect to find Montessori programs to help get a child ready for first grade. A VIP mother in San Ramon could demand a curriculum designed to support a five-year-old learn at a personal pace. Anyone who lives and/or works along the I-680 corridor from Walnut Creek to Danville to Dublin might be pleasantly surprised to find quality Montessori preschool options close by in Danville, California.
The inconspicuous design could be easy to miss. A team of professional and supportive Montessori preschool teachers ready to inspire early learning might have been in the right spot all along. Parents might need to take a second look to locate Montessori programs nearby in Danville and San Ramon, CA. For these reasons, Learn and Play Montessori has announced a new blog post.
ABOUT LEARN AND PLAY MONTESSORI
Learn and Play Montessori aims to be one of the best Montessori schools in the greater San Francisco Bay Area. Whether parents are looking for Montessori preschools in San Ramon, Danville, Walnut Creek daycare or a top-rated Montessori School in Dublin / San Ramon, Learn and Play has a campus for their child or children. All schools use the famed Montessori method, offering programs from childcare to daycare, preschool to kindergarten, in not only Danville, Fremont, Dublin or San Ramon but also in nearby towns such as Alamo, Blackhawk, Diablo or San Ramon on the I-680 corridor as well as Walnut Creek.
Learn and Play Montessori
Media Relations
https://www.learnandplaymontessori.com/