Dublin, California is a "commuter" town. Most moms and dads do not work in Dublin. They commute up to San Francisco, across to Fremont or San Mateo, or down to San Jose. Thus, they often need daycare for their little ones. We offer Montessori-style daycare in Dublin, California, and when the little one is ready for preschool, we offer that, too!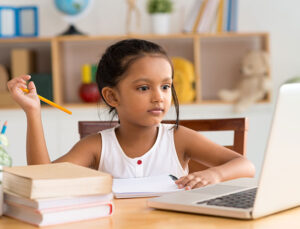 We are to be found at 11900 Silvergate Drive in Dublin, which is very easy to access from the I-680 and the I-580, so is also ideal for commuters going north from Pleasanton or south from San Ramon or even as far as Walnut Creek.
Our campus has five large classrooms full of Montessori materials from which children can select and play, while learning at the same time. There is plenty of space for the little ones to roam around as they learn to explore the big, wide world around them with our daycare in Dublin, California. We also have a large playground very near the back of the campus which is fully gated and secure, and an ideal environment for the children to play and learn.
We love using the Montessori method for toddlers and it is exciting to see them exploring and finding out about so many different things. So, for example, we teach the very basics of math by singing songs and counting animals, fingers, shapes, and so on, and we help them to understand the concept of time – morning, afternoon, evening – and the seasons of the year. We also help with practical life activities which help toddlers to learn how to control their motor skills and eye and hand co-ordination.
Activities To Begin To Learn About Science
As part of our daycare in Dublin, California, experience, we also teach the children about science. So, we have activities where they will learn about weight and balance, gravity, floating and sinking, mixing of colors, and so on. We also help them to learn about plants, living and non-living things, water, stones and rocks, and the weather.
Of course, we let the children experiment with visual arts such as coloring, drawing, painting, gluing, and cutting, and we have a music curriculum so that they can learn about melody and rhythm, and the lyrics of songs. We also spend some time on movement – skipping, jumping, clapping, bending, stretching, and dancing. In addition, we use these activities to start the toddlers on the road to learning Spanish.
To find out more about our daycare provision, we invite all parents to drop into our Dublin campus and take a school tour where you can see for yourself just what our toddlers are doing.