Summer is just around the corner, and if you are looking for Danville preschool options for busy parents, private preschool is a no brainer. You probably don't get three months off in the summer! So our full-time, year-round preschools are a Godsend.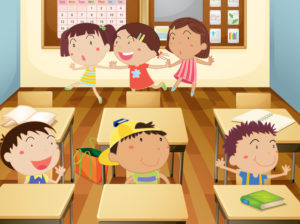 Indeed, many parents with kids in public preschools switch over to us for the summer because they can't afford to take three months off work. It's actually a bit longer than three months: this year it runs from May 17th to August 27th.
Not only do parents switch over to us in the summer, but when they realize just how well their children are doing and how happy they are, they understand that they DO have Danville preschool options and they often decide to let their children stay on with us for the rest of their preschool. Another very important consideration for busy working parents is that we open at 7.00 am and don't close until 6.30 pm, so if you have an early start at your job, or finish late, there is no problem. You can drop your child off early, pick him up late, just let him do mornings only, afternoons only – whatever suits you. At Danville Montessori we don't expect you to fit around us: instead we fit around your work and life schedule. We even provide morning care from 7.00 am to 8.00 am if you need it.
Not Just Convenience but a True Danville Location
Of course, our Danville Montessori doesn't just provide convenience. The most important thing is the child's method of learning which under the Montessori method is outstanding. It is outstanding because each child is free to roam the classroom which is filled with a huge assortment of Montessori materials and choose to learn about something that takes his interest. In the Montessori method the children don't sit on the floor cross-legged listening to a teacher talking. Rather, they get involved with something that takes their interest and can explore the materials to their heart's content. They use all their five senses rather than just one, and there is no pressure.
Children are not required to finish something within a certain timescale. It's a fact that children learn at different rates, so expecting them to have learned about something within a given timescale is not what we do at Danville Montessori. It takes as long as it takes. The teacher watches what each child is doing and then when the time is right will introduce him or her to some further materials.
So each child is learning about something that interests him and he WANTS to find out more about, and at the same time he is under no pressure. This is just one reason why we believe that the Montessori method is unsurpassed.