San Ramon parents can be a little stressed out. It's common to have two-income families, with Dad and Mom heading off in different directions each day.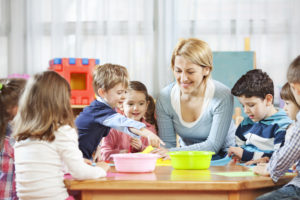 We can help with two locations for San Ramon Montessori preschools, just on each border – Danville to the North, and Dublin to the South. Neither of them is actually in San Ramon, but they are both only a very short drive away.
Our Danville pre-school is open from 7.00 am to 6.00 pm while the one in Dublin is open from 7.00 am to 6.30 pm, so both our San Ramon Montessori preschools are convenient for dropping children off on the way to work and picking them up again at the end of the day. We provide a variety of part time, full time, and after school packages, and we know that our teaching is so good that we do not require a yearly contract. Tuition is due on a month by month basis.
Children Learn By Doing Rather Than Listening: the Key to a Best Preschool
The Montessori Method lets our children choose their activity from a range of different options and allows for uninterrupted periods of work time – ideally three hours. Rather than sitting listening to a teacher, the children work with specially designed materials and they do so at their own pace. They learn by doing, using all of their five senses. The materials were developed by Maria Montessori and are usually of natural materials such as wood, rather than plastic. Each child is allocated a trained Montessori teacher who can follow the child's progress and observe their particular abilities and talents.
Children who are slower at learning and developing are not made to feel as though they are failures, while those who are quicker learners are not held back and can proceed as fast as they wish. Our Montessori program provides children with free activity in an environment that is tailored to the specific characteristics of children at different ages, and to the individual personality of each child. The aim is to allow the child to develop his or her own independence in all areas.
While there is a huge range of materials, the child is supplied with only those required to support a particular project. As one activity is concluded, the child can begin another and use whatever materials are needed for that. The Montessori Method dictates that there should be order and nature both inside and outside the classroom and our San Ramon Montessori preschools adheres to these rules, so that your child can develop into the unique individual that he or she is. Several studies have shown that children who attend a Montessori school from an early age outperform their class mates in subjects such as science and math in their high school years.
If you're interested in a San Ramon preschool, call us and stop by for a "campus tour." We're sure you'll be impressed!