Fremont is a dynamic, growing community, and we realized more than just one Montessori school is needed. That's why we are proud to share the opening of a new Learn & Play Montessori school at the Centerville Campus.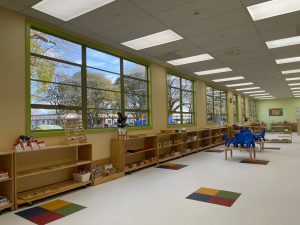 It's spacious and state-of-the-art. It has three large playgrounds filled with unique, colorful equipment. And the most essential thing: our Montessori teachers are ready to nurture your child's interests and prepare them for a life of educational success!
The new Montessori campus is near several neighborhoods and the 880 Freeway. Families can quickly drive over and deliver their little ones to the door of the best daycare in central Fremont! But what if a family has several children of different ages in need of a top-rated childcare program?
We can do that, too. The Centerville campus serves children from eighteen months to nine years old. We also provide after-school programs and extended hours to help parents struggling with a long weekday commute.
Although many parents enroll their children in our daycare program, they quickly find out the toddler stage is only the first step in a Montessori experience. Daycare teachers support this critical time in brain development by encouraging discovery in a clean, nurturing, colorful space. Daycare rooms provide fun, challenging toys to help with fine motor skills. Teachers read stories and point out letters and numbers to begin early recognition. When your child is ready to transition to the preschool program, they are prepared to explore the next level of learning!
Daycare Near Central Fremont Offers a Montessori Culture Every Step of the Way
Montessori Teachers practice a balance between teaching and guiding. Children are naturally curious and will gravitate towards topics sparking their personal interest. We gently help stretch them a little further. If a girl is fascinated with a xylophone, she is encouraged to combine a few notes to make a tune. If a boy explores paint, a teacher may show him how blue and yellow make green. Our program focuses on many different subjects, so from the beginning, your child has a well-rounded learning experience. Topics include math, science, language, visual arts, and the physical arts.
The Centerville Campus is located in the heart of Fremont at 2550 Peralta Blvd., Fremont, CA 94536. If you are reaching the best daycare near central Fremont, go to the link to schedule a tour at https://www.learnandplaymontessori.com/centerville-fremont/. Our staff is eager to show off the new Centerville Campus!