At Learn And Play Montessori, we have four locations in Fremont – in Maple, Peralta, Niles, and Irvington – and are opening a fifth school in South Fremont in the next few weeks. We are, of course, following State guidelines to the letter regarding re-opening, so we would ask you all to keep tuned to our website for updates.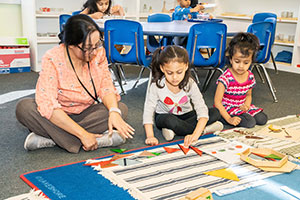 One of our priorities is to provide childcare for essential workers in Danville, California, such as healthcare, fire, and police. We are doing our utmost to provide these per the law, and of course, offering the Montessori method of education. Because your child's education can't take a vacation!
REMOTE LEARNING OPPORTUNITIES ONLINE THE MONTESSORI WAY
At the moment we are providing remote learning with a Facebook Live Teaching and Presentation session every day from 45 minutes to one hour for each age group. Here is the login URL: https://www.facebook.com/learnandplaymontessorischool/live. Check our Facebook page for details; it's a fun opportunity to keep the learning during the summer "break," such as it is.
If your child is unable to watch these live sessions, they are being recorded and will be on our YouTube channel here: https://www.youtube.com/learnandplaymontessorischool. Your child can then watch them whenever it is convenient.
Worksheets & Homework assignments will be uploaded every day to our online portal on the Enroll in Remote Learning page. These are password protected. You should already have your password. There is also a 30-minute Zoom call every day with a teacher and other students for children aged 3 – 6 years. Our remote learning curriculum will include lessons in: Sensorial, Mathematics, Language, Science, Geography, Spanish, Music, Art, Movement, and Storytime.
The Shutdown Has Been Unprecedented
Of course, this shutdown has been unprecedented, but it is unavoidable. We are adhering to State guidelines and will be re-opening all our Fremont campuses as soon as we are told it is safe to do so. Naturally, we cannot wait to re-open so that all our children can benefit from the huge choice of Montessori materials that we have available but are currently under lock and key. This is why we are doing everything that we can to keep all of the children engaged and continuing with their education, albeit in a different format from usual.
Rest assured that, although it may seem a way off yet, this will pass, and we will get back to normal operation. If you have any questions at all you can email us. You can also phone us on (510) 709–9902 from Monday through Friday from 10 am to 2.00 pm.