Learning Pods are the new, new thing in the East Bay, especially Fremont, Dublin, and Danville. And for the gardeners among you, we are not talking about the things in which your peas and beans grow, although there is a similarity. "Pods" are when parents get together, pool resources, and have a stable environment of kids and teachers. So in other words, everything is together in its' own little cluster – just as your peas and beans are.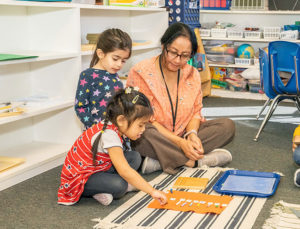 But guess what? We're way ahead of you. We now have kindergarten pods in Fremont. Our online learning will supplement what is taught in public schools; our teachers can help your kindergartener stay online and on task!
Let's face it: the hours in public schools are not all that long, and they are definitely not convenient for parents who have to work. Certainly, Coronavirus has meant that we have all had to shut down in the past weeks, but in the public schools, the days are short. On top of that, they close down for nearly three months in the summer every year. That means that your child doesn't get anything near the learning that we provide at Learn And Play Montessori.
Virtual Learning Sessions And Pods
As a result of the shutdown, we got working on a system for remote learning very quickly indeed, to the extent that we now have online "virtual" learning sessions and pods with small groups of parents and kids together with our teachers.
And we are not just talking about pre-recorded video classes here, but interactive learning in our kindergarten pods in Fremont with live teachers on Zoom and Facebook, so that your child can ask questions and get answers in just the same way as he or she can in class.
So we all work together in our own little group – or pod – and get to know each other, and can help each other with our remote learning sessions which will include 30 – 45 minutes each day of a Facebook live teaching and presentation session for each age group. If your child cannot watch a live session it will be recorded and made available on our YouTube channel.
There will be worksheets and homework assignments uploaded to your parent portal. In addition, there will be a Zoom call of 30 – 45 minutes with a teacher and other students every day for all children from the ages of 3 – 6 years old.
We have really put a lot of thought into this so that we can ensure that your child doesn't miss out on anything. It is critical that every child is able to carry on with the foundation of his or her learning – Coronavirus or no Coronavirus.
You can enroll in our remote learning program here: https://www.learnandplaymontessori.com/remotelearningenroll/