"Learning Pods" are an exciting new concept in pre-K education. If you're not familiar with them, a "learning pod" is a small group of similar children, who are brought together to learn with one teacher. Due to COVID-19, many parents with toddlers, kindergartners, and preschoolers are struggling to find a workable solution that balances the needs of their children, of parents and their busy schedules, and of teachers. The goal is to build a safe learning environment with minimal exposure to the virus yet still allow for learning to go forward.
---
Contact Us
to Learn More about Small Group / "Pod" Learning Opportunities for Preschool and Kindergarten | Call
(510) 955-1001
.
---
Learning Pod Opportunities in Fremont, Danville, Dublin and Online – taught the Montessori Way
"Learning Pods" are exciting but can be a challenge for parents to self-organize. We're excited because we use the "leaning pods" methodology in our current learning opportunities.
We use small group settings with one teacher, so that kindergartners and preschoolers are kept with the same peer group, thus minimizing transmission opportunities. Plus these "small group" learning opportunities are an exciting way for us to use the Montessori method. Remember – we offer online online options, blended options that combine online and in-person, and in-person kindergarten and preschool opportunities at our Fremont, Danville, and Dublin campuses.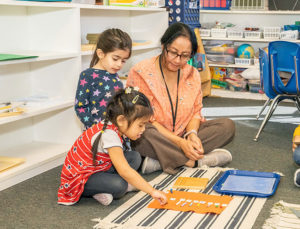 Learning Pods for Kindergartners – explore online Kindergarten opportunities plus in-person Kindergarten learning at our Fremont, Dublin, and Danville campuses.
Learning Pods for Preschoolers – explore online preschool opportunities plus in-person preschool learning at our Fremont, Dublin, and Danville campuses.
Kindergarten Pods and Preschool Pods Taught the Montessori Way
We use the Montessori method not online for our online Montessori programs (kindergarten, preschool, and online daycare) plus in our face-to-face classes. We work with parents and children for the best option for their families. This means that we offer "blended" learning opportunities, so that you can take advantage of face-to-face learning in a "pod" plus online pod opportunities. In summary, if you're looking for Kindergarten pods in Fremont, Dublin, or Danville and/or preschool pods in Fremont, Dublin, or Danville, reach out to our staff. We're happy to answer your questions and work with you for the BEST learning solution for your child. Contact us today to learn more!