September 28, 2018 – Danville, California. Learn and Play Montessori, a leading Montessori program offering childcare, daycare, preschool and kindergarten opportunities in Danville, California, is proud to announce new openings at its popular East Bay campuses.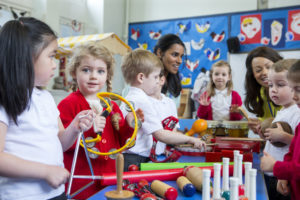 Learn and Play operates Montessori schools in Fremont, Danville, and Dublin, California. The Danville campus is especially popular with parents seeking preschools in nearby San Ramon and Alamo.
"Parents are understandably stressed during the fall enrollment wave," explained Harpreet Grewal, director of Learn and Play Montessori. "We're excited to announce openings at our Danville, Fremont, and Dublin locations due to last minute enrollment clarifications, but warn parents that all schools are filling fast."
Those who would like to explore Danville preschools online can visit https://www.learnandplaymontessori.com/danville. That link has full information on the Danville campus plus a "contact" link so that a parent can reach out to learn more and even schedule a school tour. Those who would like to learn more about the school's preschool philosophy can visit https://www.learnandplaymontessori.com/preschool as well, but the best step is to come in for a no obligation campus tour. It should be noted that the Danville campus is also convenient to parents seeking San Ramon preschools. Similarly, parents seeking Fremont or Dublin preschool openings, can also visit the website and schedule a preschool tour of either the Dublin or Fremont locations. It should be noted that Learn and Play operates three separate schools in Fremont, each conveniently located across the Bay Area's sprawling fourth largest city, that of Fremont, California.
PRESCHOOL PANIC: FINDING A TOP-RATED PRESCHOOL IN DANVILLE, DUBLIN, OR FREMONT
Here is the background on this release. September is a stressful month for parents, educators, and employers alike. Employers welcome employees back to the full-throttle fall work season, as the fourth quarter is traditionally the busiest season of the year, even in non-retail industries such as the technology sector that is so prevalent in the San Francisco Bay Area communities of Fremont, Dublin, and Danville. Educators deal with over enrollment that, as parents and kids become "no shows," becomes under enrollment. A full waiting list can give space to openings in the blink of a September fall day. And parents wake up from summer mode to realize that they need a quality preschool program that is great for this child and yet easy for their commute.
By announcing new openings at each of their Bay Area campuses, Learn and Play is admonishing parents to reach out, today, for a campus tour as there is no guarantee that today's open slots will be there tomorrow.
ABOUT LEARN AND PLAY MONTESSORI
Learn and Play Montessori aims to be one of the best Montessori schools in the greater San Francisco Bay Area. Whether parents are looking for a Montessori School in Danville, a Blackhawk preschool or a top-rated Montessori School in Dublin / San Ramon, Learn and Play has a campus for their child or children. Bay Area parents searching for Walnut Creek preschool options could find the right fit in Danville. All schools use the famed Montessori method, offering programs from childcare to daycare, preschool to kindergarten, in not only Danville, Fremont, Dublin or San Ramon but also in nearby towns such as Alamo, Blackhawk, Diablo or San Ramon on the I-680 corridor as well as Walnut Creek.
Learn and Play Montessori
Media Relations
https://www.learnandplaymontessori.com/