Danville is not a huge city, by any stretch of the imagination, but it still has a fair number of preschools. Some of them are Montessori schools and some are not. We operate a number of preschools in the East Bay area and we are very proud to say that they are all Montessori.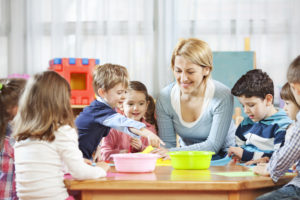 We are also especially proud of our new preschool in Danville. Certainly, you have Danville preschool choices, but we invite you to come and take a look at Learn And Play Montessori and see how our children are developing.
We are situated in lush green surroundings just off Highway 680, so easily accessible from San Ramon, Alamo, Diablo, and even Walnut Creek and Blackhawk. Our school is a spacious Tudor-style cottage with eight spacious classrooms, each of which is packed with Montessori designed materials. Many of these are natural materials such as wood and paper rather than the plastic favored by many these days.
Our campus provides programs for children from as little as 18 months to six years and offers plenty of space for the children to move around in and investigate the Montessori equipment available. We have insured that the windows are large enough in each room to provide plenty of natural light.
One Of The Best Preschool Choices in Danville, San Ramon & Surroundings
This is one of the best Danville preschool choices because outside is a large playground which is separated for each age group and is fully gated and totally secure. This provides plenty of opportunities for your child to explore nature and develop his or her motor skills in a safe environment.
Children are encouraged to explore the classrooms and experiment with whichever materials they wish in order to develop their skills at their own pace. One of the basic concepts of the Montessori Method is that children are allowed to learn and grow at their own pace, so we never hurry those that are slower in development, nor do we hold back those who seek to cover all the ground as fast as possible. New materials are supplied as the child needs them, so there will always be something for them to investigate.
Children are encouraged in a wide variety of subjects including math, language, poetry, understanding the concepts of earth, water, countries, and continents, and taking part in dance, singing, movement, art, while also learning about nature, plants, trees, flowers, and more. We even teach them basic Spanish which will be a useful language to know as they grow older.
We offer all parents a tour of the facilities. We know that you have several Danville preschool choices so we take care to see to it that you can appreciate the beauty of the Montessori Method for yourself.