If you are parents who live in Central Fremont and are looking for a preschool in Central Fremont for your child, then you can do no better than Learn And Play Montessori.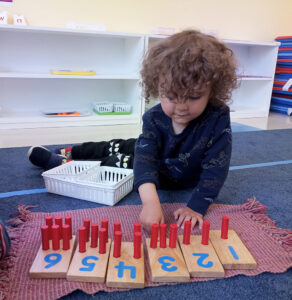 We are based in Peralta just off Dusterberry Way and Thornton Avenue, and so are only minutes away from Newark and the I-680. The good news is that we still have a few enrollment opportunities available as this goes to press. Our best-in-class preschool program is the perfect basis for STEM success later. If you want a preschool in Central Fremont for your child, we recommend calling us now to book a school tour so that you can see for yourself just how well our children are getting on.
We take children from the age of 2 until 6 and we are open every weekday from 7.00 am to 6.30 pm, so whatever your hours of work happen to be, we fit around you. You can drop your child off on your way to work and collect him or her again on the way home.
Our beautiful preschool in Central Fremont has six large classrooms that are filled with the finest Montessori materials, and we also boast a fascinating playground outside for the children to explore and play in. During the first six years of a child's life, he or she will absorb an incredible amount of information. According to the website Edutopia "Young children need to enjoy the process of learning instead of focusing on performance. Educators and parents can emphasize the joys of trying new activities and learning something novel. We need to help children understand that mistakes are a welcome, normal, part of learning" (https://www.edutopia.org/article/why-ages-2-7-matter-so-much-brain-development).
We Need To Produce Well-Rounded Individuals
It also says as follows "Exposing children to a wide variety of activities lays a foundation for developing skills in a range of fields. This is the time to engage children in music, reading, sports, math, art, science, and languages". In other words, we need to produce well-rounded individuals.
This is exactly how the Montessori method of learning works. Our classrooms are filled with a wide choice of Montessori materials and the child is allowed to choose anything which catches his or her interest. This means that the child will be learning about something which he/she finds interesting and so will want to find out more. So, the child is learning because he finds learning exciting rather than sitting listening to a teacher talking about something in which he may have no interest at all.
To find out more about our preschool in Central Fremont, call us on (510) 870-2324.