May 31, 2019 – Danville, California. Learn and Play Montessori, a top-performing preschool in the Bay Area, is proud to announce a new post in time for summer, 2019. Learning styles could vary among individual children.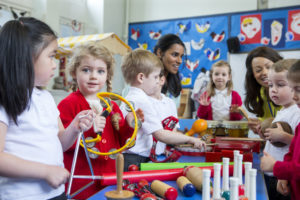 The post investigates and explains the selection of Danville summer preschools might vary in teaching methods. It can be essential to find a team of skilled teachers flexible enough to support the educational development of an individual child.
"Parents in affluent communities such as Danville, Dublin, and San Ramon understand that each child has a specific personality and way of doing things. Finding an educational environment flexible enough to manage different learning styles can be a key to success," explained Harpreet Grewal, director of Learn and Play Montessori. "Our summer school program is open and ready to support a learning path right for individual children."
The Bay Area community can review the new Learn and Play Montessori blog post on summer preschool options in Danville, California. Summer break is coming up soon, and parents might need to find daycare options for young children. Choosing the right fit for a preschooler might include finding a flexible curriculum for different learning styles. Parents interested in touring a top Danville summer preschool teaching the Montessori Method can book a visit the website.
THE BEST DANVILLE SUMMER PRESCHOOLS PASS THE 'PERSONALITY TEST' FOR BAY AREA PARENTS
Here is the background for this release. Personality tests have been used as a standard method to help students determine the right college placement. College counselors can scrutinize a list of questions and to help place young people in compatible careers. An introverted biology student with interest in cell mutation might find lab research a good fit. An extrovert passionate about history and government might do well in the political arena. In early education, the personality of a young child can play a part in choosing the best preschool.
Engaged teachers can spot personality types at a very young age. A four-year-old student might gravitate towards a quiet reading room while another preschooler prefers to play in the sand outside with classmates. The best Danville summer preschool can support various personalities in one nurturing environment.
From June through August, many schools close for summer break. Parents searching to fill in the months with a quality early-education program can learn about Danville summer preschools that support individual learning. For these reasons, Learn and Play Montessori announces a new blog post for the Bay Area community.
ABOUT LEARN AND PLAY MONTESSORI
Learn and Play Montessori aims to be one of the best Montessori schools in the greater San Francisco Bay Area. Whether parents are looking for a Montessori School in Danville, a Blackhawk preschool or a top-rated Montessori School in Dublin / San Ramon, Learn and Play has a campus for their child or children. Bay Area parents searching for Walnut Creek preschool options could find the right fit in Danville. All schools use the famed Montessori method, offering programs from childcare to daycare, preschool to kindergarten, in not only Danville, Fremont, Dublin or San Ramon but also in nearby towns such as Alamo, Blackhawk, Diablo or San Ramon on the I-680 corridor as well as Walnut Creek.
Learn and Play Montessori
Media Relations
https://www.learnandplaymontessori.com/