Finding a Danville childcare is not too difficult. There are quite a number. However, finding a Danville childcare that you can trust is a somewhat different matter. You don't really want a "fly by night" childcare that's unlicensed and in someone's home. It's your kid, after all.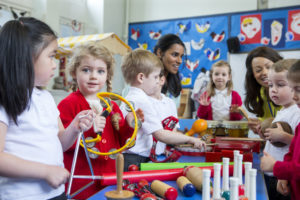 Well, at Learn And Play Montessori we're accredited and licensed, and since we use the Montessori method, it's an easy way for your child to progress into preschool and even Kindergarten.
Our Danville campus is set in a beautiful Tudor cottage style of building and has a great playground area with trees, and plenty of games and slides on which to play. For the toddlers, we have a separated playground so that they can explore and play as they develop their gross motor skills.
Inside the building we have no less than eight large, bright, and colorful classrooms filled with Montessori materials which the children can use to explore. The Montessori method is not so much a method of teaching as a method of learning. Each child chooses from the materials something which interests him, and it follows that because he finds it interesting, he wants to find out more about it. Furthermore, he is learning by doing and using all his five senses, rather than learning by listening to a teacher talking.
Every Child Is Unique – the Key to the Montessori Method
The Montessori method is grounded in the belief that every child is unique and learns best in an environment which nurtures and respects his unique and individual capabilities, and at Learn And Play Montessori that is exactly what we provide.
Because the children are free to choose from the huge range of materials for themselves, it means that each child is learning about something different from the next child, although they may very well cover the same subjects at different times, so there is no element of competition or having to achieve a certain standard or score. Equally each child will proceed at his own pace, which means that slower learners are not made to feel inadequate, while quicker learners do not get held back, as they can just move on to the next stage or subject which interests them as soon as they wish.
Our Danville childcare is open from 7.00 am in the morning to 6.30 pm at night and caters for children from the age of 18 months to the age of six. We are situated only just off the I680 so are very convenient for parents who have to commute. We encourage all parents to take a school tour to see just how well-adjusted and content our children are.