Many Bay Area people commute to and from Silicon Valley. Fremont is a junction point for people commuting from the East Bay and South into San Jose, Milpitas, and even Mountain View. If you are a parent who does the daily commute this way, you might find that daycare on the commute to Silicon Valley is a smart option for you.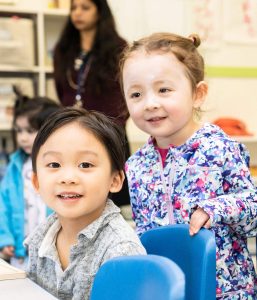 At Learn And Play Montessori we have several options for daycare on the commute to Silicon Valley because we have no fewer than six campuses in Fremont, and not only that, but we are shortly opening another one in Milpitas as well.
Our campuses open at 7.00 am and they don't close until 6.30 pm, so whatever your hours of work are, our schools are convenient for you. It's just so easy to dop your child off on the way down to the South and then pick him or her up on the way back again. We are convenient to both the I-580 and the I-680 because we have campuses in Irvington, Maple, Peralta, Niles, Centerville, and South Fremont, and the Milpitas campus will also be opening shortly. In addition, we have a campus in Dublin and another one in Danville, so we have you covered pretty much wherever you work.
The Montessori Method
Our daycare programs are all based on the Montessori method of learning, so there is no better way on which to start your child off on the early learning years, as this will lead easily into the preschool and kindergarten years. Furthermore, our daycare programs are designed to let your child do a lot more than just playing with blocks and drawing pictures. Of course, it is important that they are able to do that, but we focus on your child's brain development as well. We want children to develop self-confidence and to learn to mix and play with others as well.
We enable your child to start to learn to read, and we teach them vocabulary. They will also play with puzzles which helps with brain development, and they can learn off of flash cards also.
As with all of our Montessori programs, every child is allowed to develop at his or her own pace. Not all children learn at the same pace. Some will be quick learners and others will be slower, so they can go at their own rate.
If you would like to find out more about daycare on the commute to Silicon Valley, we encourage you to drop by at the most suitable campus for you and you can see for yourself how we work and how well our children develop.