When you think of YouTube your first thought is probably all about silly videos, and it is true that there are plenty of them on the platform. Heck, would you believe that there are 750,000 hours of video uploaded to YouTube every day?! And a lot of them are silly.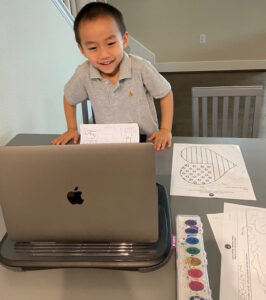 However, YouTube can also be an incredibly useful platform for your preschool child. At Learn And Play Montessori we are uploading a lot of YouTube preschool videos to our YouTube channel to help your child with his or her education.
Of course, it goes without saying that all of our campuses in the East Bay are open as usual, albeit with first class standards of hygiene and extra care because of Covid-19, so if you wish to bring your child on to campus that is fine. However, many parents are presently homeschooling their children. Some may want to homeschool part of the time and bring the child on to campus the rest of the time, while others are keeping their child at home. With our YouTube preschool videos, it means that you can now work in whichever way that you wish.
Complete Courses On Zoom And Facebook Live
We are running complete courses for all age groups every day on Zoom and Facebook Live and they are being recorded and uploaded on to our YouTube channel as well. What this means for you is that you can now fit your child's preschool education around the times that suit you. So if your child cannot make a particular Zoom or Facebook Live time slot, he can simply view the class later on in the day or even the next day.
What we have done at Learn And Play Montessori is to use the very best Montessori principles to produce daily video classes for children of all age groups so that they can get the benefit of the Montessori way of learning. This works from the premise that the child has a choice in what he or she learns about. In the classroom this is done by allowing each child to select materials from the huge choice that we have available so that he can learn about something that interests him. Each child is also allowed to work at his or her own pace: there is no rush because we understand that some children simply learn faster than others, so there is no pressure on the slower learners and the quicker ones do not get held back.
Our YouTube preschool videos will help your preschooler to keep up with his education without the need to be physically on campus. Click on the Online link at the top of the page to find out more.