At Learn And Play Montessori our preschool in Dublin, CA, is now "back online" and we are EXCITED! There is a lot of change and tumult in our procedures and policies due to Covid-19, but rest assured, we are implementing all of the state and county standards.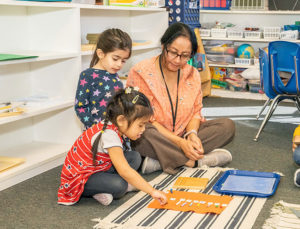 Many new parents are finding us as their best option for preschool in Dublin, CA, as their own preschools have closed.
Regardless, whether you are in Dublin, CA, or San Ramon, Pleasanton, Livermore, Hayward, or any of the surrounding areas, we are here for you and we are taking enrollments for childcare and preschool now as well as Kindergarten. Certainly, things have changed, as we take our responsibilities for the safety of every child, parent, and teacher extremely seriously, which is why we are following the guidelines of the Centers for Disease Control and Prevention (CDC), Child Care Licensing Department (CCLD), County Health Department, and other government organizations.
However, we will still be operating the Montessori method of learning in as far as it is humanly possible. This is based on the premise – which is a fact – that every child is a unique individual with his or her own likes and dislikes, and must be treated with the greatest of respect.
The Montessori method of learning provides the child with a huge range of materials from which he or she can choose whatever catches their interest. What this means is that every child learns and explores something because he WANTS to learn about it. He wants to find out more. This very quickly leads every child to learn to love learning, and that is a trait that will stay with them for the rest of their lives. Our children are always exploring and on the lookout for something new to learn about.
Our Children Learn At Their Own Speed
Furthermore, our preschoolers all learn at their own rate. There is never any rush. It's a fact that some children are quick learners and others are slower. That doesn't matter. They learn at their own pace. Our teachers keep an eye on each child and, when they are ready, will introduce them to some further materials. This also means that there is no rush to learn and no sense of competition because, at any given moment, each child is learning about something different from the next one.
So if you are looking for a preschool in Dublin, CA, consider Learn And Play Montessori very carefully. We are open for enrollment now, but as a result of Covid-19 we expect to get booked up very quickly and there is obviously a limit to how many children we can take.
Just click on the Schedule a Tour link at the top of the page to choose a time that suits you.