Proximity is one decision parents consider when choosing a daycare or preschool program. It may not be the top concern, but the time it takes to pack, drive and drop kids off cuts into a schedule. It's important to know we have multiple Bay Area Montessori preschools, with two located next-door to San Ramon! In fact, Dublin and Danville flank the city of San Ramon.
Our Danville preschool is a charming cottage-style school surrounded by trees, is located next to the 680 for a quick drop off and pick up.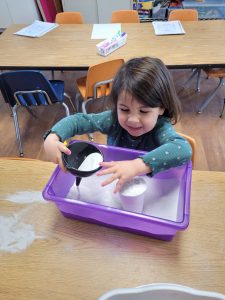 Our Dublin school is nestled in a family neighborhood right off San Ramon Road. And a new neighborhood preschool is opening in Dublin Ranch soon, plus we have a "mega" campus in Centerville (Fremont), California.
Let's Zero in on San Ramon
We know San Ramon parents appreciate convenience, but they also care a great deal ensuring their child is in the best preschool in San Ramon & environs. Many mothers and fathers will put their child's well-being over their comfort. This is what good parents do. Surprisingly, our neighborhood preschools can be an excellent fit for both child and parent needs!
Not only are we conveniently located off the 680 freeway and near family neighborhoods, but we are also close to shopping and other businesses. After dropping off a young student at our school doorstep, a father can quickly go around the corner for grocery shopping or a dental appointment. Mothers looking to squeeze in exercise time on the way home from work can take a yoga or pilates class before arriving to pick up their child from our preschool. Dads who like yoga or pilates can do the same. Busy parents of any type will appreciate our best-in-class Danville daycare, preschool, and kindergarten program. Parents can stop by for a tour and look around the neighborhood to experience the best preschool in San Ramon, CA!