Many people who are looking for a preschool undertake a search for something like "preschools near me in Danville".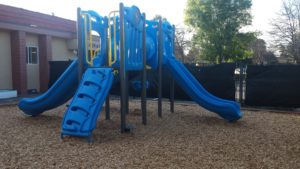 However, maybe that is missing the point to a certain extent. Surely the most important thing is to get the BEST preschool for your child?
Certainly, if the best preschool also happens to be very convenient to where you live that's a bonus, but it is not the most important factor. At Learn And Play Montessori School in Danville we should know this, because we have parents in San Ramon, Walnut Creek, Alamo Oaks, Diablo, Blackhawk, and Tassajara who bring their child to us, because they realize that this is where their child will get the best start on the long road to a full education.
Our beautiful Danville preschool is nestled in lush green surroundings and is a Tudor Cottage style building. We have no less than eight very large, light, and airy classrooms that are filled with only the finest Montessori materials from which each child can select whatever catches his or her interest. That's right! The Montessori method doesn't work by telling the child what to learn about. Rather, the child finds something that interests him and picks up whatever it is and goes off to play with it and explore it and find out all about it.
Can You See The Thinking Behind This?
Can you see the thinking behind this? Each child is learning about something because he WANTS to learn about it. How much better is that than having to sit and listen to a teacher talking about something which may not only not interest him, but might even bore him? The result of this approach is that the child very soon learns to love learning because he is exploring something that he wants to find out more about.
This also means that there is no rush. There are no targets set. No time limits. The child just carries on until he has learned what he wanted to know. Our teachers keep an eye on each child and when the child has progressed to a point where he is ready for the next step will introduce him to further materials.
So when searching for preschools near me in Danville you will almost certainly find us, which is really convenient if you do live in Danville. We are very close to the I-680 in San Ramon Valley Blvd which is ideal for parents who have to commute. However, if you live in Walnut Creek, San Ramon, Alamo, and so on, still do a search for preschools near me in Danville because we are not very far away, and it is well worth the extra few minutes' drive. Drop by for a "school tour" of the best preschool in Danville: ours.