Summer is here – and if you live in San Ramon and are looking for San Ramon preschool programs, so is Danville. It's only three miles away, after all, and if your child is in a public school the whole thing closes down in June and stays shut all summer.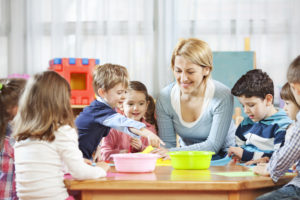 To be fair, some of the public preschools are very good, but it doesn't help that they close down and leave you to find something else to do with your child for what is, after all, a quarter of the year!
Now suppose you could find San Ramon preschool programs that stay open all year. Even better, what if they opened at 7.00 am and stayed open until 6.30 pm so that, no matter what your working hours, you could drop your child off on the way to work and pick him up again on the way back?
Better still, what if one of those San Ramon preschool programs used the Montessori method of learning?
Your prayers have been answered!
We Do It All!
At Learn And Play Montessori we do all of the above. We're open at 7.00 am and still open at 6.29 pm. Not only that, we are only three miles from San Ramon, and we're just off the 680. So if your commute is north towards Walnut Creek we're on your way. And if your commute is the other way, it's still only a seven minute drive to Danville from San Ramon and another seven minutes back, which is not exactly arduous.
But the best part about it is that your child will have the benefits of the Montessori method of schooling which is just so different from traditional schooling. Having said that, the Montessori method has been around since the 1940's so it is very well established, and the children love it!
This is because the Montessori method provides a huge amount of materials which your child can choose to learn about. They are all there in the spacious classroom and he is free to wander around until he finds something which catches his eye. He then picks it up and can look at it, play with it, and learn about it to his heart's content.
So the big benefits are that your child is learning by doing, rather than learning by listening, and is using all his five senses. Even better, he is enjoying what he is learning, because he is learning about something which he finds interesting.
We encourage all parents to drop into the school at 730 San Ramon Valley Blvd in Danville and take a look for yourselves. See what we do, and see how the kids enjoy learning.