San Ramon is a very prosperous and lovely community in the East Bay. We love it. We also have a lot of parents looking for the San Ramon best preschools, and guess what?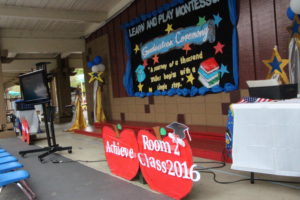 They're not in San Ramon. The best preschools in San Ramon are actually in Dublin and in Danville. This is where you will find Learn And Play Montessori School which are the best preschools in San Ramon! Let's face it, both are only a few minutes' drive from San Ramon, and they are well worth the trip.
The Danville preschool is just off Sycamore Blvd in Danville with easy access to Highway 680 and is a Tudor cottage style campus with eight large classrooms packed with a huge quantity of sequenced and high-quality Montessori materials, allowing for endless learning opportunities for these young inquisitive minds. The classrooms are large so that the children can move around freely and explore, and they have extended windows to allow plenty of natural light. There is also a large outdoor playground where the children can get up close and personal with nature. This preschool takes children from the age of 18 months to 6 years old.
Our Dublin Campus: Another Option for a "Best Preschool in San Ramon"
The other one of the San Ramon best preschools is our campus in Dublin. This is off of San Ramon Blvd in Dublin and is for children from 2 to 6: it opens from 7.00 am to 6.30 pm so is ideal for working parents who need to drop off their children on the way to work and pick them up again afterwards. The campus has five large classrooms designed in a similar way to the Danville classrooms, and again these are light and airy. There is also a playground near to the back of the school which is gated and allows for a safe and secure place to learn and play outdoors.
The Montessori Method takes a hands-on approach to learning and works to treat every child as a unique human being. The children are encouraged to learn and play with subjects that interest them, and because they are enjoying what they are doing, they very soon love to learn. Every child is allowed to proceed at his or her own pace, so the quick learner is not held back, while those who are slower are not made to feel as though they are failures – far from it. Rather than just sitting listening to a teacher, the Montessori children learn using all their five senses.
Our teachers provide each child with new challenges, introducing new lessons and letting the children practice what they have learned.
So now you know where the San Ramon best preschools are, and they are both well worth the short trip. Contact us for a campus tour so we can show off.