Kindergarten in the pandemic is pretty challenging! You often have your "real job" to go to, and then your "parent job" as you try to do a virtual kindergarten for your child. It's not easy.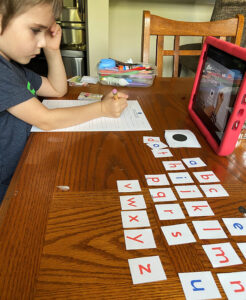 Of course, all of our campuses in the East Bay Area are open. We have no fewer than five in Fremont, another in Dublin, and one in Danville as well, so we are convenient wherever you happen to live or work in the East Bay. However, we realized very early on in the pandemic that many parents would choose to homeschool their child and need access to virtual kindergarten programs. This is why we put together a complete curriculum for learning the Montessori way at home.
Our virtual kindergarten programs include daily Zoom sessions for children from the ages of three to six, and daily Facebook Live teaching and presentation sessions for all ages. Daily worksheets and assignments are uploaded to the parent portal for all ages and include the list of materials that will be needed.
The Zoom classes are spread throughout the day five days a week and are limited to 12 children or less on each session. If you let us know your preferred time for your child's Zoom session, we will do our best to accommodate you. There are also the Facebook Live sessions each day which are arranged by age group.
All Classes And Videos Are Recorded
However, there is no need to worry if your child cannot watch the Facebook Live session live, because all of the classes and videos are recorded and posted under the Videos tab on our Facebook page, so your child can watch at a time which best suits you. The worksheet assignments are uploaded to the parent portal at the beginning of each week along with the weekly agenda. You will be sent a password at the beginning of each month which is for parents who have enrolled for that month. Videos and presentations are also uploaded to our YouTube channel.
Montessori virtual kindergarten programs allow the child to explore the world at his or her own pace and trust the child to know what he wants to learn and how he wants to learn. We have many years' experience of face to face teaching of the Montessori method and this has enabled us to create a best in class online curriculum. This is taught by professional staff and is designed to assist parents and children to keep learning.
Our online programs teach the foundation of the STEM skills in science, technology, engineering, and math, and we also include Spanish, art and movement, English, geography, and writing skills.