STEM stands for Science, Technology, Engineering, and Math. South Fremont is the traditionally most "techie" part of the city. It's on the border with Santa Clara County, which is of course "ground zero" for tech businesses.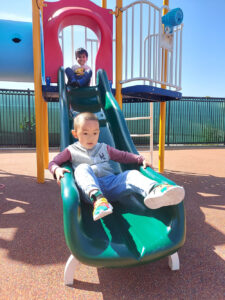 Of course, many "techie" parents want to give their kids a leg-up with a STEM-based program, and at Learn And Play Montessori we run a STEM-oriented preschool and kindergarten in South Fremont, CA, at our campus on Fremont Blvd. Yes, we get your child off to a flying start, with our kindergarten!
Our South Fremont campus has only recently opened and has been built to a state-of-the-art design, and is very convenient to Warm Springs, Blacow, and Grimmer. The classrooms are spacious and have large windows in order to let in maximum natural light. There is a huge stock of Montessori materials from which each child can choose, and as a STEM-oriented kindergarten in South Fremont, CA, they contain a selection of items connected with science, math, engineering, and technology.
Kindergartners Learn At Their Own Pace
The children are allowed to learn at their own pace. Some people wonder why this is part of the Montessori method, but the simple fact is that we all learn at different rates. Some children learn very quickly, while others are slower. That doesn't mean that the slower learners are in some way inferior to the quick learners, nor that the faster learners are somehow "clever". It is just the way that we all learn, at our own pace, and as long as everyone knows what they need to know at the end of the day, that is the best way to get there.
This has many advantages because not all children are learning the same thing at the same time, so there is no sense of competition. Not only that, but we also find that in many instances an older child will help out a younger one with something if he or she is having difficulty with it. So, our children in our STEM-oriented kindergarten in South Fremont, CA, learn to work with each other, which is so necessary in society today.
Further, because each child is allowed to choose what he or she learns about at any given point, it very quickly instills a love of learning about something for the sake of learning. Exploring in order to find out more. This is a skill which will serve your child well for the rest of his or her life.
If you would like to learn more about the Montessori method and watch how our children are doing, we will be happy for you to book a school tour so that we can show you around.