If you are a parent who lives or works in Union City and are looking for Union City preschools you should certainly take a look at Learn And Play Montessori in Niles. We are literally just down the road on Niles Blvd so we are very close to where you live or work, and we provide the Montessori method of learning which we believe in very strongly.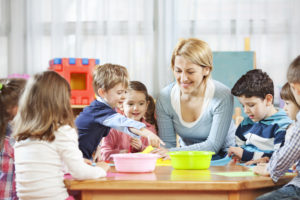 You'll notice we say learning and not teaching. This is because our children don't learn from a teacher in the usual sense of the word, because that involves children sitting down listening to a teacher telling them things. The Montessori method is very different indeed, because the children learn what they WANT to learn, which is why they come on in leaps and bounds because they are actually interested in what they are doing.
No "One Size Fits All" Here
The Montessori method is not a "one size fits all" method of learning. Our Niles preschool has large and airy classrooms that are filled with natural light and also filled with a large selection of Montessori materials from which each child can CHOOSE what takes his or her interest. Then he can play with them to his hearts content, exploring and finding out more about them as a result of his own natural curiosity.
Think about it for a minute. When you were at school there were subjects that didn't interest you at all, but you were told that you "had" to learn them. It is very likely that you didn't do very well at all in those subjects because they didn't interest you. Latin? Boring. Or maybe it was great. But if it was boring, you didn't do well. Conversely, you probably did very well at the subjects which did interest you. It makes sense, doesn't it?
This is why we are reckoned to be the best of the Union City preschools, even though we are technically just outside the City. The children actually choose what interests them and then are keen to find out more about the subjects. Our teachers keep an eye on what the children are doing and then introduce them to further materials when they are ready to move on. But there is no pressure. Each child proceeds at his or her own pace, which means that the faster learners don't get held back, and those who are slower are not made to feel inadequate.
So if you are looking for Union City preschools we encourage you to pop across into Niles and take a look at our children. You are very welcome to do so.