Early childhood education is crucial for laying the foundation for a child's success in life. With studies suggesting that 90% of brain development occurs within the first five years of life, it is imperative that children receive quality education starting at a young age. At this age, children's brains are still developing and are highly receptive to learning, making it an ideal time to introduce them to new ideas and concepts.
Our toddler program provides an environment designed to help nurture and stimulate your child. With a careftlly designed program of daily routines and enriching activities, our curriculum is tailored to enhance their social and cognitive growth. We have age-appropriate materials that encourage exploration and give your child the freedom to make choices. This will give them the foundation of learning they need for ongoing development.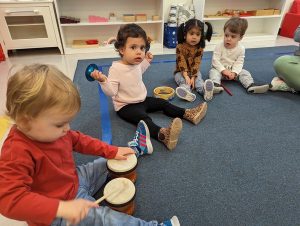 Our Learn And Play classrooms create an emotionally safe place for the children. Your toddler will be with a loving and nurturing teacher whose focus is to help your child transition to our environment as a first step. Our teachers are trained to demonstrate respect and compassion by using low-tone voices, using eye contact, and addressing your child by their name to gain their trust.
Our toddler programs in Fremont, Danville, Dublin, San Ramon and Milpitas have been designed to foster a secure and inspiring environment where toddlers can learn grace and courtesy. During classroom activities and supervised play outdoors, teachers introduce critical social skills such as taking turns, following directions, sharing, and basic etiquette (e.g., saying "please" and "thank you").
We provide children with plenty of opportunities to develop and hone their large and fine motor skills. Our outdoor activities are designed to allow toddlers to engage in fun activities such as climbing, jumping, and balancing. Additionally, our Montessori classrooms offer engaging opportunities that encourage the development of fine motor movements.
Montessori practical life / sensorial, mathematics, and language curriculums allow children to work independently with concrete, self-corrective materials at children's own pace.
Our mission at Learn And Play Montessori School is to inspire children to become self-confident and motivated individuals; we achieve this by providing the highest quality educational toddler, preschool, pre-k, transitional kindergarten, and kindergarten programs, and opportunities for each child to reach their highest potential.