July 22, 2021 – Fremont, California. Learn and Play Montessori, a best-in-class preschool program serving parents both in the East Bay (Fremont, Dublin, and Danville) as well as online, announces a key milestone. Their YouTube Channel has topped 10,000 subscribers, making it one of the largest channels devoted to virtual Montessori preschool on the Internet.
"Since the Pandemic began, we have invested heavily in our online Montessori programs both for Kindergarten and Preschool," explained Harpreet Grewal, director of Learn and Play Montessori. "We are so proud to reach the ten thousand subscriber milestone, and even more excited to bring best-in-class Montessori preschool and kindergarten learning programs to the online or virtual community. "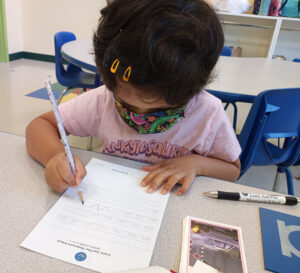 The channel can be viewed at https://www.youtube.com/c/LearnAndPlayMontessoriSchool. It includes playlists such as remote learning for children by age. Whether a child is in kindergarten or preschool, he or she can leverage the video learning. Many parents have chosen to "homeschool" their children during the Pandemic and have signed up for either the no-cost or paid options available through the vibrant YouTube channel. The most popular video, with over half a million views," is an introduction to the Montessori method for online or virtual kindergarten and/or preschool at https://youtu.be/N39oLk474E8. Many parents watch that video and then subscribe to the channel. Once a parent and child have engaged with the YouTube channel, the next recommendation is to check out the online learning materials at https://www.learnandplaymontessori.com/online-learning/ which focus on online / virtual preschool and kindergarten learning opportunities. The company broadcasts a daily live video on Facebook for each age group, available at no cost, and provides additional paid opportunities for parents that want to go to the next level. All education is inspired by the Montessori methodology, adapted to the online environment.
FREMONT, DUBLIN, AND DANVILLE PRESCHOOL OPPORTUNITIES
Secondarily, many parents in the Bay Area use the online programs as a hybrid way to engage their child. The company offers best-in-class preschool and kindergarten programs in Fremont, Dublin, and Danville, California. Those programs are back in full, using Montessori methods in a "traditional" face-to-face classroom. Each school is conveniently located for Bay Area parents and provides best-in-class Montessori instruction. Four locations exist in Fremont, one in Dublin, and one in Danville. All are commute-friendly with extended hours, and as the Bay Area has re-opened many parents have signed up for "real world" Montessori preschool and kindergarten. Indeed, with a new location in South Fremont (https://www.learnandplaymontessori.com/south-fremont/), Learn & Play makes it easy and convenient for parents to find the best preschool in Fremont for their needs. In summary, whether a parent is looking for online / virtual preschool or preschool in Fremont, Dublin, or Danville, they can find the best option for their child.
ABOUT LEARN AND PLAY MONTESSORI
Learn and Play Montessori aims to be one of the best Montessori schools in the greater San Francisco Bay Area. Whether parents are looking for a Montessori School in Danville, a Blackhawk preschool, or a top-rated Montessori School in Dublin / San Ramon, Learn and Play has a campus for their child or children. Bay Area parents searching for Walnut Creek preschool options could find the right fit in Danville. All schools use the famed Montessori Method, offering programs from childcare to daycare, preschool to kindergarten. Schools are located in Danville, Fremont, Dublin, South Fremont, or San Ramon, and nearby towns such as Alamo, Blackhawk, Diablo, or San Ramon on the I-680 corridor and Walnut Creek. Bay Area Parents can find new locations at The Vineyards/Avalon in South Fremont and Warm Springs neighborhoods.