If you live in Irvington, Grimmer, Warm Springs, Weibel, or Blacow, and you are having difficult finding a Montessori school in South Fremont, we have some good news for you: at Learn And Play Montessori we have just opened our latest campus in South Fremont in Fremont Blvd.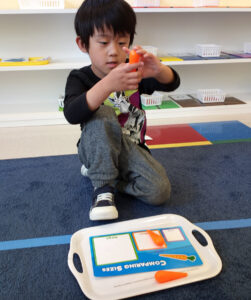 As you can well imagine, with our first-class reputation in the East Bay, enrollment is filling fast, so we would recommend that you reach out to us for a school tour at your own convenience and to get any further information that you require as soon as possible. We can provide you with daycare and / or preschool for your child from age 2 – 6.
A Brand-New Building for a Best-in-class Preschool!
Our campus is housed in a state-of-the-art brand-new building designed especially for us, so that finding a Montessori school in South Fremont is now easy for parents. You might even live in Milpitas and travel north to work, so it is simple to drop your child off on the way in and pick him or her up again after work. Our hours are from 7.00 am to 6.30 pm so are convenient for parents whatever your working day is. You might also live in Fremont and travel down to Silicon Valley for work, so the same thing applies because we are convenient to the I-680 and I-580.
Our new campus has large and bright classrooms with large windows to let in plenty of natural light, and we also have learning spaces outdoors. The classrooms are filled to the brim with only the finest Montessori materials from which the children can choose. This is one of the huge benefits of the Montessori method of learning, because each child will choose something that is of interest to him or her. What follows is that the child becomes engrossed in the materials and wants to find out more, so very quickly develops a love of learning for the sake of learning.
Another big advantage of the Montessori method is that each child is allowed to learn at his or her own pace. There is no rush to finish something by a certain deadline, since all the children are exploring something different in any case. This means that there is also no sense of competition for one child to be "better" than another. Our teachers keep an eye on what the children are doing and when they are ready will introduce them to some further materials.
As we said, enrollment is progressing fast, so if you are keen on finding a Montessori school in South Fremont reach out to us today for a school tour.