January 22, 2022 – Fremont, California. Learn and Play Montessori, a best-in-class preschool and kindergarten program in Fremont, Danville, and Dublin California, is proud to announce new daycare opportunities in Fremont, California, near the landmark hospitals of Washington Township and Kaiser Permanente. Both are large employers in the Bay Area city, and the convenient daycare opportunities can be very helpful to busy parents.
"Hospital staff are the true heroes of the age, and yet many, as young parents, have a huge need for daycare near them." explained Harpreet Grewal, director of Learn and Play Montessori. "We are announcing daycare opportunities in Fremont near to the key hospital landmarks of Washington Hospital and the Kaiser Permanente Hospital, both located on Paseo Padre Boulevard. Nurses, doctors, and other medical staff who are parents are encouraged to reach out as availabilities for daycare are limited."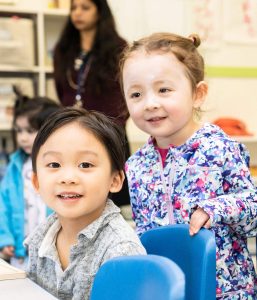 Persons who want to read a detailed post on the topic are encouraged to visit https://www.learnandplaymontessori.com/blog/many-hospital-workers-at-kaiser-permanente-and-washington-hospital-in-fremont-need-daycare/. Persons who want to learn more about the daycare opportunities being announced can visit https://www.learnandplaymontessori.com/daycare/. That page explains the philosophy of daycare, which is inspired by the Montessori method (https://www.learnandplaymontessori.com/montessori-method/). The schools have more than one location, but more than a few are nearby to hospitals in Fremont, California. In all cases, the programs use the Montessori method, where age-appropriate, to instill a love of learning in each child. Again, where age appropriate, information is given on science, technology, engineering, and math ("STEM"), so that children have a solid educational foundation when they start preschool and kindergarten.
Those parents who have young children can also explore options at the nearby South Fremont campus at https://www.learnandplaymontessori.com/south-fremont/. That campus is open and offers full-time programs for day care, childcare, preschool, and kindergarten to parents in South Fremont. It is convenient to Milpitas and the 680 corridor. Many Silicon Valley parents find it a great option for both their commute and their children. It's an exciting and vibrant school in an exciting and vibrant neighborhood of Fremont. Parents who want a top-rated education are excited to start at the very beginning. Inspired by Montessori methods, even the day care or childcare programs help kids to start a lifetime of learning.
FINDING THE BEST PRESCHOOL IN FREMONT NEAR WASHINGTON HOSPITAL AND KAISER PERMANENTE
Here is the background on this release. Fremont has grown, over the past two decades, from a sleepy suburb to a vibrant powerhouse of Bay Area economics. Parents love the city, and it is brimming with young families. Healthcare is an increasing part of the local economy. Both Washington Hospital (https://www.whhs.com/) and Fremont Kaiser Permanente (https://healthy.kaiserpermanente.org/northern-california/facilities/fremont-medical-center-100367) are landmarks in the Bay Area city. Many young parents work as doctors, nurses, or other medical staff and need best-in-class daycare near them. The new announcement of enrollment opportunities in day care comes just as busy medical staff are dealing with the latest wave of the Pandemic. Fortunately, top-rated daycare is nearby; interested parents are encouraged to call today as enrollment is limited.
ABOUT LEARN AND PLAY MONTESSORI
Learn and Play Montessori aims to be one of the best Montessori schools in the greater San Francisco Bay Area. Whether parents are looking for a Montessori School in Danville, a Blackhawk preschool, or a top-rated Montessori School in Dublin / San Ramon, Learn and Play has a campus for their child or children. Bay Area parents searching for Walnut Creek preschool options could find the right fit in Danville. All schools use the famed Montessori Method, offering programs from childcare to daycare, preschool to kindergarten. Schools are located in Danville, Fremont, Dublin, South Fremont, or San Ramon, and nearby towns such as Alamo, Blackhawk, Diablo, or San Ramon on the I-680 corridor and Walnut Creek. Bay Area Parents can find new locations at The Vineyards/Avalon in South Fremont and Warm Springs neighborhoods.