Working in the hospital sector can be challenging and arduous. Fremont has a moderately sized hospital for Kaiser Permanente as well as one for Washington healthcare system.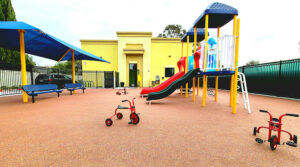 Both are best-in-class hospitals with quite a few workers. Many of the workers need daycare for their child as they are busy moms and dads.
Fortunately, at Learn And Play Montessori we provide daycare near Kaiser Permanente and Washington Hospital in Fremont, as our Peralta and Irvington campuses are quite close and easy for workers to drop off their child on the way in. We are open from 7.00 am to 6.30 pm, so whatever shift you are working we are here to help take care of your child.
Daycare near Kaiser Permanente and Washington Hospital is important for your child. It is about a lot more than just drawing pictures and playing with blocks, which is what you get with many daycare nurseries, although those things are important of course. But at Learn And Play Montessori, we give your child so much more.
It's Not All About Playing
Daycare is not all about playing, although our children certainly do that. But we want to focus on the development of their brain and start them off on the right foot. It is never to early to start gaining an interest in learning for the sake of learning, and that is what we promote.
We help your child with a range of subjects that are similar to the ones that they will be learning when they enroll in school a year or so ahead. So, we teach:
Math
Science
Language
Visual Arts
Movement
Physical Arts
We teach your child to learn off of flash cards, learn new vocabulary, learn to read, and play with puzzles. What this means for you is that when your child gets to the next stage, he or she will be a few steps ahead of the rest of the children in the class.
The Montessori method of learning teaches your child that learning is fun. It is not about sitting on the floor listening to a teacher talking, but about engaging with things, exploring them, and finding out how they work or what they do – if indeed they "do" anything. So, each child works with the materials and learns about them because he or she wants to rather than because they are told to.
This results in a lifelong interest in finding out about things, and that stands your child in good stead when it is time to get a job and go out into the wider world.
To find out more about our daycare near Kaiser Permanente and Washington Hospital in Fremont, make an appointment with us for a school tour at our Irvington or Peralta campus.