Milpitas is firmly in Silicon Valley and is home to a number of high-tech companies. With a population of around 85,000, the city ranks as the one that has the highest percentage of residents in the US who work in the computer and electronic products industries – 34.1% of men and 26.9% of women.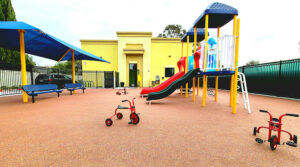 The city is home to the largest shopping mall in the Bay Area, The Great Mall of the Bay Area, which contains around 200 stores. There are 17 traditional parks in Milpitas and there is a sports complex with two swimming pools and baseball and tennis courts. There are also, as you might expect, two golf courses. The name Milpitas itself is derived from Mexican Spanish and means "place of little cornfields": there's something that you never knew!
However, not all Milpitas residents work in the city, Quite a number of working parents travel up the I-680 to Pleasanton and on to Oakland and also to Fremont itself. Those who are looking for Montessori preschools in Milpitas, California, have been delighted to find that there is now one in South Fremont – Learn And Play Montessori in Fremont Boulevard. This is ideal for commuters because they can drop their child off on the way to work and collect him or her again on the way back home to Milpitas. In fact, many consider that this is now the best of the Montessori preschools in Milpitas, California, even though it isn't actually in Milpitas.
New Campus Built From Scratch in South Fremont
Our new South Fremont campus has been built from scratch and has only recently opened. We are open all year round as opposed to the public schools which seem to close for most of the summer, and the day begins at 7.00 am and goes on until 6.30 pm which is ideal, because it fits around pretty much whatever your working hours are. You can just drop your child off on the way to work and collect again on the way home.
With the Montessori method of learning, the children are allowed to choose for themselves what they wish to learn about by selecting from the huge stocks of Montessori materials that are to be found in every classroom. This works very well because each child is studying something which he or she finds interesting and this soon develops into a love of learning for the sake of exploring and finding out more.
If you are a parent who commutes up the I-680 and are looking for the best Montessori preschools in Milpitas, California, we would be delighted to welcome you to Learn And Play Montessori for a school tour so that you can see how well our children are doing and we can answer all your questions.